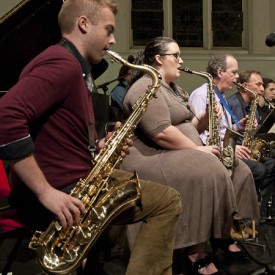 Around 50 people were in attendance on Monday, Nov. 19 as the Webster University Jazz Collective hit the stage. The group's hour-long performance in the Winifred-Moore Auditorium kicked off at 7 p.m. The music department presented the concert, and will present more than 120 concerts over the 2012-13 concert season. This year, performances will include international jazz artists, operas, soloists and pedagogues.
Monday night's performers played numerous brass instruments as well as drums, guitar and violin. Brass players consisted of Randy Holmes and Tim Hand on trumpet, Sophie Ozier on euphonium and James A. Martin on bass trombone. Saxophonists included Paul DeMarinis and Elizabeth Fedorchalk on alto, Stephen Martin and Mike Karpowicz on tenor and Adam Gabbert on baritone. DeMarinis also played flute during the concert. Raphe Makarewicz was the violinist for the night. Pianist Kiersten Rose, guitarist Michael Belaska, bassist Guy Cantonwine and Stephen Haake on drums kept the rhythm going throughout the performance.
The group performed various pieces, including the Bronislaw Kaper and Ned Washington piece "On Green Dolphin Street," and an arrangement by Les Hooper called "Broken Images." The performers also played arrangements by Grammy-winner Maria Schneider. Schneider's 2004 album, "Concert in the Garden," was the first online-only CD to win a Grammy.
The jazz collective performed two of Schneider's works. "Green Piece" was the first piece the collective performed from Schneider's first album, "Evanescence."
James A. Martin, bass trombonist, went to school with Schneider and spoke about "Green Piece."
"It's a haunting piece," James A. Martin said. "It starts off sounding like it's a simple little waltz in one and it becomes much more complicated than that."
The collective ended the night with Schneider's "Bird Count," a tribute to jazz composer and bassist Charles Mingus. James A. Martin described it as having a collective energy that grabs the listener and doesn't let go until the piece is over. Martin described Schneider as one of the great jazz writers of today.
"I was fortunate enough to go to school with her," James A. Martin said. "She has a real different color that she writes for the band. Hers is not big, bold primary colors; it's more the pastels of jazz that she uses."
Every piece of the Nov. 19 concert had its own distinctive flare, from the hip-hop-like "Matt Mattox" to the Latin-inspired "Mambo de Memo," both composed by Matt Harris.
The collective consisted of Webster students, teachers and Webster associates. Webster student and collective member, Stephen Martin, said he enjoyed playing tenor saxophone with the collective.
"It's really fun to work with everybody and everybody works hard to get everything sounding good," Stephen Martin said.
Stephen Martin, a music performance graduate student, has been playing the saxophone for about 13 years.  He said he became interested in jazz when he was 10 and has loved it ever since.
"I just knew that I really wanted to play saxophone," Stephen Martin said. "Actually, in fifth grade, you had to play the recorder, and if you didn't play the recorder well enough, you didn't get to pick what instrument you got to play. My teacher was going to force me to play trombone and I cried about it. So I got him to let me play saxophone. I guess the rest is history."
He did not grow up listening to jazz, but Stephen Martin said he sees a future for himself in jazz.
"Once I stumbled upon jazz, I just really loved it,"  Stephen Martin said. "So I just kind of dived right into that. And it's kind of a risky thing because it's not a very popular music so it's a risk I'm willing to take at this point just because I love it."
Stephen Martin's goal is to do what DeMarinis, another collective member and head of the music department, does: teach at a college level. He also hopes to play professionally throughout the Midwest and continue to teach privately.
Share this post