The Webster University women's tennis team had to wait 15 days to play its first match after the Gorloks' Feb. 20 season debut was postponed. But Webster has made up for the delay by winning its first three matches of the 2013 season.
The Gorloks most recently won 8-1 over St. Louis Intercollegiate Athletic Conference opponent Blackburn College (Ill.) on Tuesday, March 19 at the Webster Groves Tennis Center (WGTC). The win puts Webster at 3-0 so far in 2013.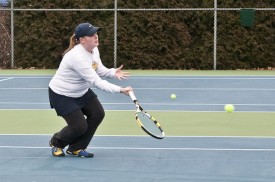 For the first time this season, Webster didn't sweep its opponent by a 9-0 score. Due to injuries, Webster coach Michael Siener was forced to pair together two freshmen — Tia Hewuse and Rebekka Lancaster. The duo took a 4-8 loss at No. 3 doubles.
"We are a little rusty and playing with new combinations," Siener said. "With all the new girls that we have and losing some of the girls we lost, everybody is playing with a new partner (in doubles)."
In the victory over the Blackburn Beavers, senior Lindsey Hays won at No. 1 singles 6-1, 6-1. Sophomore Hillary Fitz blanked her opponent at No. 2, 6-0, 6-0, while sophomore Kathleen Kennedy won in the No. 3 slot, 6-3, 6-1.
Freshman Kaylen Kress (No. 4), sophomore Isabella Espinoza (No. 5) and Hewuse (No. 6) coasted to victories, as none of the players gave up more than three games in their singles contests.
In doubles play, Hays and Fitz teamed up for an 8-1 victory at No. 1, and Kennedy and Kress won 8-2 at No. 2.
Prior to the win over Blackburn, Webster took down Fontbonne University — another SLIAC foe — on March 9 at the WGTC. Webster won 9-0 over the Griffins.
Hays won at No. 1 singles 6-1, 6-0. Fitz beat her opponent with a 6-4, 6-2 victory at the No. 2 position. Kennedy sealed a victory at No. 3 singles with a 6-4, 6-2 performance.
Kress swept her opponent at the No. 4 slot, 6-0, 6-0. Lancaster and sophomore Mackenzie Wilder received wins by forfeit at the No. 5 and 6 positions, respectively.
"I don't know what the expectations were this year," Hays said. "I was not really planning on being No. 1. I don't like to have expectations, because then it ruins everything and the actual result."
In doubles play, the duo of Hays and Fitz dominated with an 8-0 win at the No. 1 doubles spot. Kennedy and Kress took care of their opponents with an 8-0 victory of their own at No. 2 doubles. Lancaster and Wilder won once again by forfeit at No. 3 doubles.
Webster opened the 2013 season with a 9-0 victory over Lindenwood University-Belleville (Ill.) on March 7 at the WGTC. Hays won at No. 1 singles 6-2, 6-3. Fitz went into a tiebreaker in the No. 2 slot, but came out on top with a 6-4, 6-7 (6-8), 10-4 outcome.
Kennedy took the match at No. 3 with her 6-2, 6-1 win. Kress played at No. 4 singles and won 6-1, 6-1.
In doubles play against Lindenwood-Belleville, Hays and Fitz won at No. 1, 8-2, and the Kennedy/Kress duo won at No. 2, 8-3. Wilder and Lancaster won by forfeit.
"We've been fortunate to play two teams that didn't have full rosters," Siener said. "With Mackenzie (Wilder) hurt and 'Izzy' (Isabella Espinoza) studying abroad, it probably kind of worked out that now we are playing teams that have full rosters, and we'll have everybody here."
The women's tennis team will play two matches on Saturday, March 23 at the WGTC. The Gorloks will take on Westminster College (Mo.) at 10 a.m. and Eureka College (Ill.) at 3:30 p.m. Both schools are SLIAC opponents for the Gorloks.
Westminster lost its most recent match on Tuesday, March 19 to Missouri Valley College. Westminster's record sits at 0-3. Eureka has yet to play a match in 2013, but will take on Blackburn on Thursday, March 21 before facing Webster.
—Tim Doty contributed to this report.
Share this post