Whether helping to give conservative students a voice on campus or working to become a motivational speaker, Webster Senior Vincent Fedorko wants to positively impact those around him.
Growing up, Webster senior Vincent Fedorko learned college was a place of critical thinking, according to his mother Sarah Fedorko. She said she and her husband taught their children college would force people to look at multiple viewpoints and examine their own beliefs – including their political leanings.
Fedorko did not find such an atmosphere when he arrived at Webster, however.  
"Once I came to campus and was listening to classes and stuff like that, I'm like, 'OK, like, obviously there's one leaning towards this'…" Fedorko said. "I want to be able to have both sides of the aisle represented."
Fedorko helped start the Webster University Conservatives (WUCON) last year. Although COVID-19 has prevented the organization from being active, WUCON offers Fedorko an opportunity – much like his dream job – to help others. 
Noticing a problem
For Fedorko, helping to form WUCON would not only benefit the conservative students on campus. He felt being able to open a political organization would benefit everyone at Webster. 
Many other universities have both a liberal and conservative organization, according to Fedorko. He said bringing in another point of view would allow students to examine their own beliefs more closely and form stronger arguments to defend what they believe. 
"It makes you think and then you're able to understand both people. So even if you do disagree, you're still able to interact with those people and the way you know and be friendly and not like aggressive," Fedorko said.
Amy Ruffus-Doerr taught at Webster as an adjunct professor until moving to Fontbonne University full-time this year. While at Webster, she taught at least two classes Fedorko was enrolled in. Ruffus-Doerr said while she does not agree with Fedorko politically, it is still important for people to be exposed to both viewpoints. 
In psychology classes, Ruffus-Doerr teaches her students the importance of learning about other opinions and not getting stuck in echo chambers.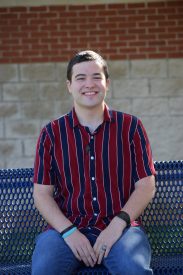 "We need to be open and aware of what all of the options are so that you can pick them apart and decide for yourself," Ruffus-Doerr said. "That is one of my main focuses for [classes] because getting stuck in this like preaching to the choir thing – it's not helpful." 
But Fedorko had not always planned to help start a conservative organization on campus. He said he saw people getting attacked for their beliefs in the media.
Fedorko was unsure how his peers would respond if he was outspoken about his political views at Webster. His mother said for the first few years, this fear led her son to keep his beliefs to himself. 
Because of this, she said her whole family was proud of Fedorko when he decided to help form WUCON. 
"You make the decision that you believe in something enough to try to do this and go against the grain of a lot of people who might not be happy about it and believe in yourself enough," Sarah Fedorko said. "It was good to see him believe in himself enough to do that and not be afraid of failing or confrontation or anything." 
After starting WUCON, Fedorko was pleasantly surprised by the response. He has received a lot of support from friends and coworkers, even if they are liberal. 
"It's like it shouldn't matter. It's like, okay, we disagree," Fedorko said. "But that shouldn't be a reason to not be friends with someone." 
Fedorko knew some people would not be okay with him being outspoken about his political beliefs but he recognized he could not make everyone happy all of the time.  
Facing challenges
This semester, Fedorko took the position of president after studying abroad last semester. COVID-19 brought restrictions to in-person gatherings on campus, however, making it difficult for the organization to host the events they were used to. 
Derek DeMartino, the treasurer of WUCON, said the organization would normally host game nights with free food to try and get people involved. 
Fedorko said it was important to not be focused on politics the entire time. DeMartino also felt offering a relaxed atmosphere for events is important given how polarizing the current political conversation is. 
"It is important to not get so invested that you start getting angry at the other side and really dedicating yourself to that sort of mentality, so we like to keep it casual," DeMartino said. "We're all here, we're all friends, we're all part of the Webster community but we all want to engage in open discussion."
Ruffus-Doerr said it is easier for people's minds to put others into categories and find instances which affirm previously held beliefs. She said it takes a lot of cognitive effort to challenge our beliefs and look past the categories we put people in.
"Just sitting down with the opposing side as long as we are on equal playing fields…" Ruffus-Doerr said. "That's the one way to kind of make us feel more comfortable with the opposite side."
A game night event was one of DeMartino's favorite memories of WUCON. He said some people stopped by the event, and they were able to engage in conversation and learn from each other. Fedorko enjoyed hosting game night events because he remembered people having a good time.
Now, WUCON's events have mostly come to a halt. DeMartino said WUCON's members do discuss the debates through Discord or Zoom when it is possible, but he added a plan to bring a guest speaker to campus virtually did not work out. 
Fedorko still tries to meet with members one-on-one. However, he said these meetings are more of a check-in to see how his friends and underclassmen are coping with the effects of the pandemic. 
"If they do bring up politics, cool. If not, cool as well, …" Fedorko said. "I really try and pull back and make sure that it's like their conversation."
Looking forward
Overall, Fedorko said his main goal is to help people. Looking forward, he hopes to find a job in Washington in government or nonprofit work. Fedorko hopes to use this work to make connections so he can become a motivational speaker one day. 
Sarah Fedorko said her son's strong suit is speaking with others. Fedorko was also inspired after watching a motivational speaker in high school.
Along with his interpersonal skills, Fedorko is on the autism spectrum. His mother said Fedorko has always been an empathetic person, and his struggles and time spent overcoming obstacles have helped him relate to others who are going through difficulties.
"He has realized the one thing he truly has to offer other people is help," Sarah Fedorko said. "You know to say 'I've had these things. I've learned how to get through it. How can I help you? How can I teach you that your weaknesses don't define you?'"
Fedorko said he wants to create the term "disability reframist" because of the challenges he's faced and being on the autism spectrum. He sees people say they cannot reach their goals because of a disability or challenge they face and he wants to help. 
"That really bothers me because I'm like, 'that could have been me.' And I've had so many people in my life who supported me," Fedorko said. "Not everyone has that opportunity. So, I want to be a voice or someone that they can look up to."
Share this post