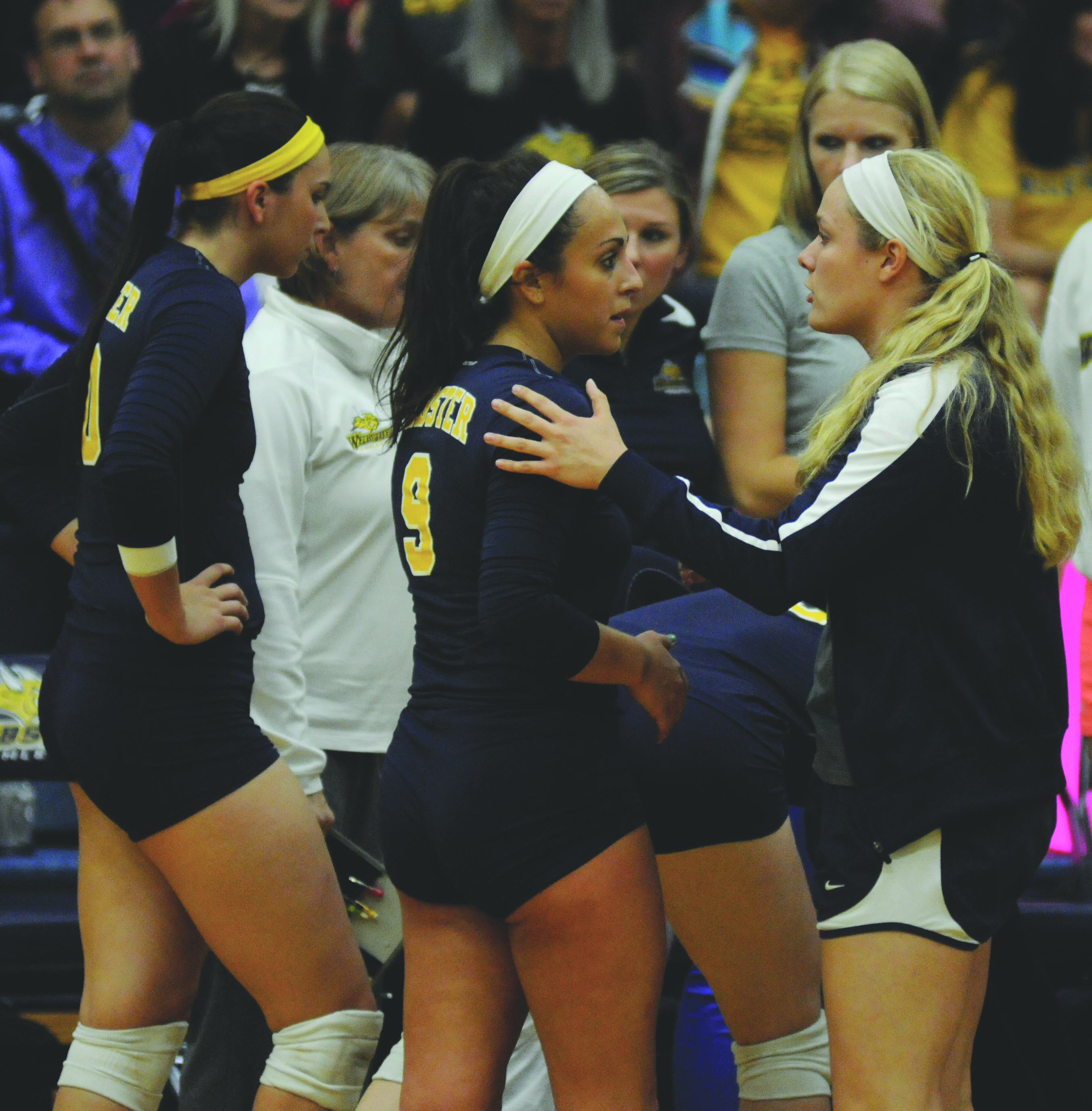 For the third straight season, junior outside hitter Jenny Howard will miss at least two weeks of volleyball due to a right knee injury. She led the Webster University volleyball team in kills as a freshman in 2011 and she was the St. Louis Intercollegiate Athletic Conference Player of the Year in 2012.
Howard  earned her sixth kill of the match against Principia College (Ill.) on Sept. 14. As her body turned, her right foot remained straight and she said she felt a pop.
Junior setter Allie O'Toole said Howard's reaction to the injury was different than past years.
"We could all tell by the look on her face that something was wrong," O'Toole said. "She looked shocked. In the past when she had hurt her knee, she would always reassure us that she was fine, but this time that didn't happen."
Howard sprained her medial collateral ligament (MCL), but she said she expects to be back for the next home game against Spalding University (Ky.) on Oct. 3.
Webster was swept by Greenville College (Ill.) during Howard's first absence this season on Sept. 18. O'Toole said without Howard the team was thrown off their game.  Howard could only coach from the sideline during time outs, and she actively pointed out Greenville's weaknesses.
"It was a feeling of complete helplessness," Howard said. "My team is out there struggling and there is nothing I could do. It was just hard because I'm watching us fall apart at points and I just wanted to get out there and do something."
Volleyball coach Merry Graf said she expected to lose Howard at some point this year due to a knee injury.
"There are teams that when their top players goes out they aren't going to win any games." Graf said. "We are fortunate to have depth where even if someone is hurt we are still able to compete."
Recurring knee injury
In 2012, when Howard returned from her knee injury, she played wearing a nearly two-inch thick white brace from her calf to her middle thigh. She will be wearing it again this season.
"I hate wearing that thing cause I can't move in it," Howard said. "It reinforces everything and literally makes sure nothing can move side to side."
Howard said her quickness and ability to jump is lowered by about 15 percent when she wears the brace. She first "blew out" her knee as a senior in high school when she collided with a teammate. She said doctors have told her that since she continues to play volleyball and run track and field, she should expect to have knee replacement surgery by age 30.
"It's depressing to hear that news," Howard said. "But I love the sport and I love playing at this school at this level. Even though it may affect me down the road, I want to live in the present."
O'Toole said the team notices when Howard plays through her injury with a brace that limits her movement, and they can see how hard she wants to get back to the court.
"I've always been the person who has the mentality to just bite my lip and keep going," Howard said. "But I've learned I have to listen to my body, otherwise it is going to break down and I'll miss an entire season."
Howard said doctors might tell her to not continue to play next season if the cartilage in her knee is deteriorated too much. Howard said she will start to be more aware of when to sit out when they have already won games, rather than risking more injury.
Share this post