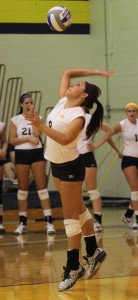 The Webster University volleyball team defeated Principia College 3-1 in the Gorloks' conference opener on Sept. 13 at Grant Gymnasium, improving Webster's record to 4-3 overall.
The match had a number of lead changes and was close throughout all four sets. Neither team led by more than five points in a set during the entire match. Sustaining a lead is something coach Merry Graf would like to improve on.
"The other team was able to score too many points," Graf said. "That's definitely one of our things to work on — to build a lead, maintain the lead and play a little more consistent."
After losing the first set 26-24, Webster won the second set 25-21. Principia led Webster throughout the third set, until freshman middle hitter Emily Ratkewicz blocked a Principia kill attempt to tie the set at 21. The Gorloks rode the momentum from that point to win the third set 27-25.
Graf noticed something in the Principia game plan that allowed Ratkewicz to set herself up for the block.
"Their hitters kept going cross-court," Graf said. "We kept telling them they needed to fix that block, and they finally made the adjustment for us."
Freshman setter Allie O'Toole served to open the fourth set for Webster. O'Toole tallied an ace and helped the Gorloks build a 4-0 lead. Webster found themselves down four later in the set, as Principia took a 20-16 lead. Webster went on a 9-3 run to win the set 25-23.
"You always want to win conference games," Graf said. "It was a big win because we're very young. Principia did a great job tonight. They were very scrappy and didn't let us score easily."
Freshman outside hitter Jordan Vehlewald led the Gorloks in kills with 12, while freshman outside hitter Jenny Howard had eight.
"Jordan had a really good night and was very successful scoring down the line for us, which was awesome," Graf said.
Howard was named the St. Louis Intercollegiate Athletic Conference volleyball player of the week for her performance in the Illinois Wesleyan Tournament in Bloomington, Ill., over the weekend. Howard recorded 2.93 kills per set in Webster's four matches over the weekend.
At the tournament, Webster lost to Coe College 3-0, Benedictine University 3-2 and Illinois Wesleyan University 3-0. They beat Illinois College 3-0 to close out the tournament with a 1-3 record.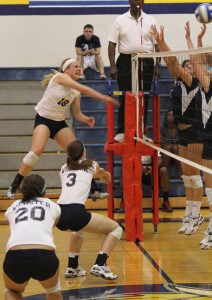 "We played well, but not consistently," Graf said. "It was against very good competition. That made it challenging to win matches. Illinois Wesleyan is a great program. We held our own, but we just couldn't be consistent enough to win."
Webster continues conference play when they travel to Louisville, Ky., to play Eureka College and Greenville College on Sept. 17. The Gorloks then travel to Jacksonville, Ill., to play MacMurray College on Sept. 19.
Share this post