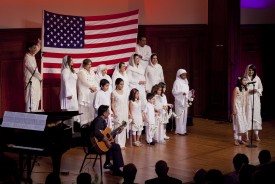 On a potentially somber night, musicians from the St. Louis area took the Sheldon Concert Hall stage in St. Louis to reflect and celebrate peace and religious diversity.
On Sunday, Sept. 9, the community group Arts & Faith St. Louis presented the September 11th Interfaith Memorial in Music. The event included 10 short performances in seven languages, representing Christian, Muslim, Jewish, Hindu and Sikh cultures.
All 700 seats appeared to be filled at the event, which was sponsored in part by Webster University. This was the second year Arts & Faith St. Louis held a 9/11 memorial. Leigh Greenhaw, president of the Interfaith Partnership of Greater St. Louis, said the turnout this year was better than last year, a significant feat considering last year was the 10-year anniversary of the attacks on the World Trade Center.
"I was really pleased," Greenhaw said. "I left saying, 'Boy, I like this better than Christmas Eve.' It just left a wonderful, uplifting, spirit … it's hard to put into words."
Greenhaw also said this year's memorial developed into more of a festive event.
"We tried to have more of a celebration-of-diversity theme," Greenhaw said. "It's rather overly mournful to have memorial services year after year."
The performers included professionals, like Grammy award-winning vocalist Christine Brewer and pianist Peter Martin.  Musicians from a number of local religious congregations also performed, ranging from a Spanish choir from St. Cecilia Parish Church in south St. Louis, to a Cantor from the Shaare Zedek Synagogue in University City. The hour-and-a-half event also included remarks from Gerald Early, director of the Center for Humanities at Washington University.
Before the performances began, Early brought music and 9/11 together, as he recalled seeing jazz saxophonist Sonny Rollins on television the morning of Sept. 11, 2001. To the newscaster, Early said, Rollins was just an old man with a saxophone in hand, evacuating the New York City apartment where he lived.
The concert was made free to the public and had more than 30 sponsors. Many of the musicians performed at no charge.
"Almost everyone who contributed was not paid, including people who were setting up," Greenhaw said. "It was astounding — the generosity of congregations, performers and staff members of the various organizations. It was wonderful."
Outside the hall, a 15-foot interactive sculpture by artist Lyndsey Scott stood. The sculpture's appearance was similar to that of a Native American dream catcher. Those in attendance were given ribbons and were asked to place them on the sculpture after the concert. This act was meant to represent unity and the pursuit of peace.
The event was broadcasted live on local television station HEC-TV and will be played again on Sept. 11, 17 and 22.
Share this post