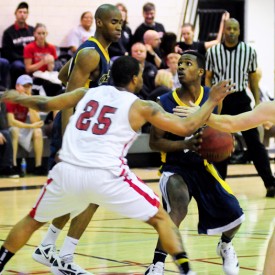 The Webster University men's basketball team traveled to Blackburn College on Jan. 28 in hopes of not repeating the result of last season's meeting with the Beavers. For the second straight year, Blackburn had the chance to end the Gorloks' perfect St. Louis Intercollegiate Athletic Conference record.
This time around, Webster got the best of the Beavers. The Gorloks fought off a late comeback by Blackburn to earn the 67-62 win. Webster improved to 9-0 in the SLIAC and 9-9 overall.
Blackburn entered the game 2-7 in the SLIAC and 5-13 overall, but the win didn't come easily for Webster.
"They're kind of a puzzle to me," Webster coach Chris Bunch said. "They've got some nice players. They've got a nice team. They're a little bit better than everyone realizes. I think it's kind of remarkable they've not won more games in conference than they have."
At the end of the first half, it seemed Webster would coast to the victory, as the Gorloks led 36-20.
"We got up 16 at the half," Bunch said. "I felt like we played pretty well. In the second half, about halfway through, we were still up 15 or so, they went to a half-court or sometimes a three-quarter court trap. It gave us a little problem just because it was something we weren't expecting."
The Beavers' traps forced several Webster turnovers, which Blackburn took advantage of by scoring on the fast break.
"One of the things you can't do versus a team when you're ahead is make turnovers and give them chances to get out and run, and get easy shots," Bunch said. "To their credit, they made them. They did a good job of getting back in the game."
Blackburn was forced to foul late, but Webster nailed its free throws to seal the victory.
"They had come back and started scoring a lot of shots," sophomore guard Hollis Edwards said. "Coach Bunch put us in a zone 1-3-1, and then we played 2-3 a little bit. So we had to stop them and hit the free throws at the end of the game."
Webster made 12 of its 18 free throw attempts in the game, while Blackburn made all four of its attempts. Webster shot 43.1 percent from the field compared to 39.7 percent for Blackburn.
Sophomore forward Stefan Whittingham led the Gorloks with 15 points and five rebounds. Sophomore guard Cody Bradfisch scored 10 points, and was 3 of 7 from 3-point range. Edwards scored 13 points and lead the Gorloks with four steals.
"I decided to attack the hole and work on my inside game first," Edwards said. "After I started hitting my shots inside, my outside shots started going in."
Webster improved to 4-0 in SLIAC road games with four conference road games left.
"It wasn't a pretty win, but any win, especially on the road, I'll take," Bunch said. "I think our guys were ready to play, and they're going to have to be ready to play this week. We've got two tough ones in Westminster on the road Wednesday (Feb. 1) and Eureka here Saturday (Feb. 4 at 3 p.m. at Grant Gymnasium)."
Webster defeated Westminster 73-52 on Nov. 30, but Westminster's team has changed since then.
"Westminster is better than they were the first time they came here," Bunch said. "They've got one player who became eligible at the break (Joe Prophet). He's played well for them. He's about a 6-foot-5 guy, athletic and good shooter. He transferred from a Division II program.
"We're just going to have to try and do the same things we've been talking about doing all year, which is take good shots, take care of the ball and try and do a little bit better job defensively. We seem to keep doing that. It's kind of a broken record, and at the same time those are the things anybody has to do to win basketball games."
After the road contest at Westminster and the home game against Eureka, Webster closes out the week by traveling to Principia College (0-19 overall, 0-11 in the SLIAC).
Share this post