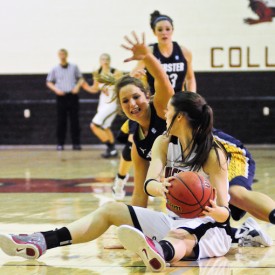 The Webster University women's basketball team survived a scare from the winless Blackburn College Beavers on Jan. 28. The Gorloks took the game at Blackburn, 71-66, to improve to 6-3 in the St. Louis Intercollegiate Athletic Conference and 8-10 overall.
During every one of its home games this season, Blackburn has had celebrations for its basketball program's 100th anniversary. The celebrations didn't bother the Gorloks, though. Junior point-guard Maggie Zehner led Webster with 15 points.
"Going into the game, coach emphasized that their record did not matter," Zehner said. "They had an event called 100 Years of Basketball going on, so we figured they would be excited about that. And being winless, we knew they would be hungry for a win, so coach told us to treat them like every other team."
Before the game, Webster coach Jordan Olufson gave his players the normal scouting report and told them to be ready to play.
"This is a game we need to have," Olufson said. "We talked about coming out with high energy and intensity."
There were 11 lead changes in the first half, but the Gorloks took the lead and went into halftime up 33-28. The Beavers battled throughout the game and cut Webster's lead to three with 30 seconds left.
The game came down to free throws, as the Gorloks secured the win by shooting 27 of 34 from the line. Blackburn hit 17 of 31 free throws.
"We did a great job making free throws," Olufson said. "We executed in crucial times during the game. We had a team that wanted to win, and we never backed down and fought till the end."
Blackburn lost despite forcing 19 Gorlok turnovers. The Beavers played zone defense to try to stop Webster's attack. The Gorloks held a slight 40-39 rebounding advantage.
"Our rebounding has got to get better, and we need to take care of the ball," sophomore guard Kaliann Rikard said.
The Gorloks' next two games are against the top two teams in the SLIAC. Webster travels to first-place Westminster College (15-3 overall, 9-1 in the SLIAC) on Feb. 1.
Webster returns home to take on Eureka College (15-3, 9-2) on Feb. 4 at Grant Gymnasium. The Gorloks close out the week by playing Principia College (4-14, 3-8).
Share this post