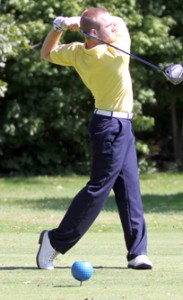 The Webster University golf team walked away with a tournament victory this past week. The Gorloks took first place in the Anderson Fall Invitational on Sept. 17 and 18 in Indiana.
Coach Andrew Belsky said he's glad the squad won, but there's always room for improvement.
"I'm very happy with the win," Belsky said. "We've yet to play our best, though."
In the first round of the tournament on Sept. 17, the Gorloks shot a combined score of 302.  Junior Kyler Scott paced Webster by shooting a 71 in the first round.
Freshman Matt Vanderbeek and junior Dan Klipsch tied for Webster's second best score in round one with 76 strokes. Sophomore Kaleb Kessler and junior Steve Kinsman rounded out Webster's first round scores with a 79 and 80, respectively.
"Everybody had their moments," Belsky said. "Everybody had their part in helping us win. I'm not sure if anybody did it individually."
Webster duplicated its result from round one to finish up with a score of 604. Webster narrowly defeated the second place team, Hanover College, by two strokes.
Kinsman reversed his fortunes from round one and led the Gorloks with a 74 in the second round.  Kessler also had a better showing in round two by shooting a 75. Vanderbeek once again shot a 76, while Scott and Klipsch ended the day with second round scores of 77 and 84, respectively.
That effort was enough to bring home a win in a tournament of eight NCAA Division III teams. Belsky said the victory gives the team confidence going forward into the remainder of the fall season.
"You know that you're capable of winning, and we won against teams that aren't just in the conference," Belsky said.  "We know we can beat them, but we've won against teams in another part of the country. It's a confidence booster."
The Gorloks will participate in the Wisconsin Lutheran Invitational on Sept. 25 and 26. Belsky said the team is looking for two things to happen in the upcoming tournament.
"No. 1 is hopefully we can get another win," Belsky said. "No. 2 is to help continue improving our stroke average and to hopefully move up in the national rankings once they come out in a few weeks."
Share this post