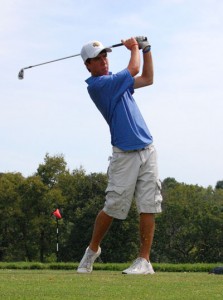 Coming off a season in which they participated in the NCAA Division III tournament, the Webster University men's golf team strengthened their team by adding freshman Matt Vanderbeek and retaining six of seven players from last year's roster.
Vanderbeek was the Class 3A high school state champion in Nevada. Along with junior Kyler Scott, who was awarded Co-Player of the Year in the Accelerated Golf Tour this past summer, the team looks to repeat as St. Louis Intercollegiate Athletic Conference champions and be more competitive nationally.
"We'll be leaning a lot on the (players) in the past," said Andrew Belsky, who will be entering his eighth year as the team's coach. "Kyler Scott and Steve Kinsman were our top two players a year ago. I think Matt's addition will be huge for us as well."
Also returning from last season for the Gorloks is junior Dan Klipsch and sophomores Kaleb Kessler, J.T. Beckmann and Andrew Noble. Klipsch and Kessler, who won the SLIAC Golfer of the Year award last season, will be counted on heavily once again this season.
Belsky spent his summer recruiting for the upcoming season and beyond.
"I spent my summer working on recruiting for next year already. Having the NCAA tournament behind you does help a little bit with that," Belsky said.
With the majority of the team returning for the 2011-2012 season, Belsky said the players participating in tournaments over the summer helped add to the team's experience.
"We're trying to get older and use the experience we already have," Belsky said. "They were all out playing at one place or another. Playing in tournaments is the best they could do."
Scott said the team wants to improve and be even more competitive than last year.
"Coming off last year and how young of a team we are, we want to improve off that," Scott said. "We're working hard and getting everybody back in the swing of things. We're coming together. There's nothing we can't work on in order to be better and get more competitive."
Belsky said the team has potential to be great this year, but there's always room for improvement.
"We look promising this year," Belsky said. "I don't think I'm ever happy with where we are, but there's definitely a lot of potential there. It's just, can we put it all together at the right times?"
Because the team has both a fall and spring season, Scott said supporting each other is a key component for the upcoming year.
"We need to keep cheering guys on," Scott said. "We're together for literally almost an entire year. We treat each other with respect on and off the course."
Belsky's expectations for the new season are team-related with hopes of improving nationally.
"We always succeed as a team and fail as a team," Belsky said. "We want to continue improving on the national ranking side. We would love to win an event or two as we play through. Eight months from now, we'd like to be the repeat conference champions, too."
Scott said he is looking forward to getting back to playing golf for Webster, traveling on the road and improving the team's ranking.
"(I like) the experience of being on the road and playing against the top players in the country," Scott said. "We're going to try to win one of these things. If we can get top three in tournaments, that would be huge for our rankings."
The Gorloks tee off their season on Sept. 2 and 3 at the Culver's Edgewood Fall Classic in Janesville, Wis.
Share this post