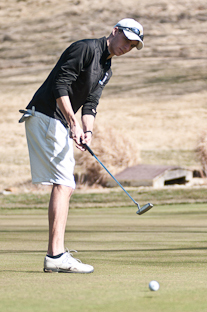 A year ago, the Webster University golf team won the St. Louis Intercollegiate Athletic Conference tournament by 30 strokes. The Gorloks finished 29th in the NCAA Division III championships and ended the season ranked a program-best 73rd nationally.
For an encore performance, eighth-year coach Andrew Belsky and the Gorloks have their sights set on a SLIAC tournament repeat, a top-15 finish at the national championships and a ranking of 50 or better at the conclusion of the season.
To reach their goals, the Gorloks have been practicing five days a week since Feb. 1. Morning workouts began at 7 a.m. The team has done exercises in the pool designed by Belsky and strength and conditioning coach Matt Saitz. The Gorloks have also played about 12 rounds of golf at Sunset Country Club and hit at a driving range.
"The main part is building up their strength and their stamina," Belsky said. "Then there's also the part that goes along with it that I don't think they ever realize — it's a mental toughness side because most college students don't want to get out of bed in the morning. When we play in tournaments, we are getting up at 5:30 or 6 o'clock in the morning to be at the golf course at 6:30 or 7. It's getting them conditioned now to be ready for our spring season."
The Gorloks began their offseason regimen a few weeks after their fall season ended in early October 2011. The team took a Fall II class with Saitz, then began pool workouts in the spring. Belsky said the players swim the length of the pool, get out to complete an exercise and repeat the process. It's the fifth or sixth year the team has worked out in the pool, Belsky added.
"A lot of it is just so we're getting exercise, but it's towards the core of the body and it's zero impact," Belsky said. "Because, while people don't think golfers necessarily have any impact, there's actually a lot of impact. We're out there for six hours carrying bags around golf courses, swinging and hitting the ground at 110 miles an hour."
The offseason workouts are leading up to Webster's first event of the spring — a March 13 dual match against Husson University in Florida. The team will follow that up by playing in the Gorlok Spring Invitational on April 1 and 2 and the Illinois Wesleyan Invitational on April 6 and 7.
"This is definitely the hardest schedule we've ever had in the spring," Belsky said. "Our tournament has a very nice field; Illinois Wesleyan has an incredible field. To continue advancing our national ranking, which has gone up every year, you have to play well, especially in the spring. You can make a lot of headway in the spring. Every event for us is important."
Webster, which has no seniors on its seven-man roster, will once again be led by junior Kyler Scott. Belsky said a pair of freshmen — Tanner Rabb and Matt Vanderbeek — will be the team's No. 2 and 3 players.
Vanderbeek had a standout fall season for the Gorloks. Rabb joins the team after playing at Division III Hanover College during the fall. Belsky said he didn't have to recruit Rabb to come to Webster. Rabb's Hanover squad finished two strokes behind tournament champion Webster at this year's Anderson Fall Invitational on Sept. 17 and 18.
Belsky views junior Steven Kinsman as the team's No. 4 golfer, though Belsky said Kinsman will be in the mix for the top positions as well. Junior Dan Klipsch and sophomores Andrew Noble and J.T. Beckmann will battle for the team's No. 5 spot.
"I really think I've got four players that could be our best player on any given weekend," Belsky said. "If I was going to say who our year may revolve around as far as our success or failure may go, I would say Steve is probably the guy that may be the key. We have three guys that are kind of your known qualities, your known players. You know every round, basically, what you're going to get from them.
"Steve is the guy who has shown to have the big peaks and valleys in his scores. If he gets hot for the month of April, we could have some very, very impressive scores. He's kind of our wild-card player."
Kinsman said his goal this season is to find the consistency that was lacking last year. He showed his potential in the final tournament of the fall 2011 season by finishing first for the Gorloks and second overall with rounds of 71 and 73.
"I can see we've improved a lot just over the winter, even comparatively from last year," Kinsman said. "Last year, we won conference and didn't have a great showing at the national championships. I definitely am hoping that we can challenge the cut line (top 15), if not make the cut at the national championship. And obviously we'd like to repeat the conference title, which I firmly think we can."
Share this post