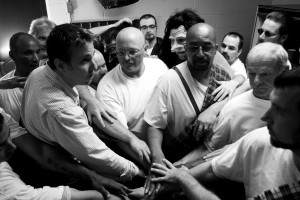 By Andrea Sisney
Webster University alumnus Matt Wallace uses an unconventional method to rehabilitate inmates at the Luther Luckett Correctional Complex in Lagrange, Kentucky — he uses the works of William Shakespeare.
Wallace is the Artistic Director of Shakespeare Behind Bars (SBB), a program that helps incarcerated men, women and youth in Kentucky explore social issues and develop personal skills by producing Shakespeare's plays. Founded in 1995 by Curt L. Tofteland, SBB is the longest standing program of its kind in North America.
One of the inmates Wallace worked with was Larry DeClue, whom Wallace described as SBB's "model ensemble member." DeClue entered the Luther Luckett Correctional Complex around the time SBB began. He was impressed with the plays, particularly in seeing inmates dressed as women in front of their fellow prisoners. But it wasn't until 2006, when he was denied parole, that DeClue thought about joining the ensemble.
"I was trying to figure out what else in my life I needed to work on," DeClue said. "I decided that suppression of my emotional side was something I needed to work on, so I joined. It was there I had my biggest breakthrough."
DeClue played Isabella in Shakespeare's "Measure for Measure," a nun who seeks to save her brother from the death penalty. DeClue had no previous theatrical experience but found acting helped him express his own emotions.
"Putting on a mask helped us take off our masks," DeClue said. "You could put on this mask, but you could also take off your own and really show who you were, because that mask was protecting you. It was powerful — I couldn't even begin to express how powerful."
Wallace, who graduated from Webster's Conservatory in 1996, came to work at the Kentucky Shakespeare Festival as an actor.
"I was hired by Curt Tofteland, and he brought (my wife and I) out to the prison to see their production of 'Titus Andronicus.' I was just blown away," Wallace said. "I've always been drawn to social issues related theatre."
Part of SBB's mission is to help incarcerated persons develop stronger literacy skills along with developing empathy, compassion and trust. Wallace said working with prisoners charged with murder, sex and drug offenses at the medium security prison can be a challenge. His line of work is often times a source of worry for Wallace's wife, Tina.
"(With) the training he had to go through to walk through the yard, I must admit I was a little nervous," Tina Wallace said. "But I wasn't afraid of the gentlemen. They're all very respectful, they call me the mama of his program. I totally support his work."
Matt Wallace loves to see the inmates learn to express themselves without violence. He hopes SBB will help change the negative stigmas associated with prisoners.
"I think we can change people's perceptions," Matt Wallace said. "It's so easy to think of every situation as black or white — if someone is in prison, it's because they did something and they just need to stay there forever. Almost all of these guys are going to get out and be our neighbors, so how do we want them to get out? There's a lot of gray area in our world and working with these guys. I guess what I want people to get is to not be as judgmental as they have been, and maybe be a little bit more understanding."
Tofteland started by teaching "Romeo and Juliet" to the inmates as an experiment with an existing literacy program, Books Behind Bars. SBB then grew to be its own program and eventually a non-profit organization.
In 2008, Tofteland resigned as director of SBB in Kentucky to start a new SBB program at the Earnest C. Brooks Correctional Facility in Michigan, leaving Matt Wallace in charge.
"I didn't know what to expect," Matt Wallace said. "I've been around since 2001, coming out and seeing the performances. I knew a lot of the guys, which made the transition a bit easier."
For Matt Wallace and Tofteland, success stories like DeClue's make working with SBB worthwhile. Dealing with the administration within the correctional facilities can often be a challenge, but Tofteland said SBB has changed his life as well as the lives of the performing prisoners.
"I had a naïve view that everyone in prison must be a juvenile delinquent," Tofteland said. "Ultimately, I ended up staying because I gained so much from the experience and I saw the inmates gained so much."
In 2009, DeClue was released from Luther Luckett on parole. He recently gained approval to become a realtor, and is going to school for computer science in Michigan. He said he owes much of his success today to Tofteland, Matt Wallace and his brothers in the SBB program.
"The greatest thing I walked away with has to be the courage to explore myself," Matt Wallace said. "You have to face what you did. I told Matt, when you act the part of a murderer, you have to imagine the motivation. For a guy who's taken someone's life it's not imagining it's remembering. You have to go back to that moment when you did something so horrible and face it, figure out why you did it. That's what I took away, the courage to be introspective, which keeps me from making mistakes now that I made 20 years ago."
Share this post