A map of Japan lit up a screen in Sunnen Lounge. A clock in the left-hand corner of the screen counted down the days of March by the hour. Small red dots popped up in slow patterns on the map, signifying earthquakes and other seismic activity. When the scrolling date read March 11, a giant red radius slammed the coast of Japan. The spot and surrounding areas continued to light up rapidly as the date kept moving forward.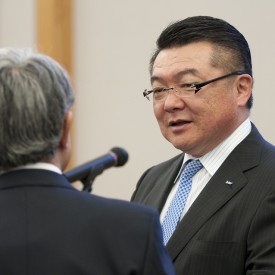 The video represented the massive earthquake and following tsunami that rocked Japan's islands on March 11, 2011. The video was shown to a crowd of 40 Webster University students and staff as part of the Japanese Student Association's (JSA) event, Hope for Japan: One Year Later.
The night commemorated the one-year anniversary of the natural disaster, which led to the death of nearly 20,000 Japanese citizens and a major radiation leak from a destroyed nuclear power plant. Webster JSA held a fundraising event to help with relief efforts a month after the 9.0 magnitude earthquake erupted. Together, the Webster community raised more than $12,000 to aid Japan.
"It's not about the money now, it's something different," teaching assistant Kana Morishita, who helped JSA with the event, said.         Edson Kodama, general secretary for Junior Chamber International (JCI), spoke to the crowd in Sunnen about Japan's recovery from the devastation. JCI is a St. Louis-based nonprofit group that helps organize young people in communities to create change.
Kodama, who was raised in Brazil, said Japan has made great strides in rebuilding over the past year. JCI has chapters in more than 125 countries, including 14 Japanese chapters. Kodama said these chapters helped provide shelter, food and other basic necessities to those affected by the earthquake, and are still working with local communities to rebuild schools.
"We don't tell (communities) what they have to do," Kodama said. "Where and what to do is decided by the people. That is our interest — having the local people as the deciding (people). Get in and make them the owner of the process."
Kodama said the earthquake was particularly tragic because of how many people died in shelters. Japan has tsunami walls built around the coasts to withstand waves up to five meters high — the March 2011 tsunami had waves reach 20 meters above the ground, washing away shelters.
"People were in the safe place," Kodama said. "They thought they were safe."
With the help of organizations such as JCI, much of the debris and destruction was cleared and rebuilt in a few months after the earthquake. Kodama said JCI helped many communities put on traditional Japanese festivals in July and August, which helped restore hope to the Japanese people.
Life has returned to normal in most areas, with the exception of the town of Futaba in Fukushima where the nuclear reactor leaked.
"It's a ghost town," Kodama said. "There are dryers (in laundromats) with clothes still inside. Radiation is five times above what a body can have."
Kodama said in times of crisis, small developing countries play a big part in recovery, as well as the financial support of bigger nations like the U.S. He shared a story of a time he received $12 in coins from a group of children.  They gave what they could to help Japan.
"A lot of smaller countries put their pennies together just for that feeling of helping," Kodama said. "The beauty of human beings is to be good to others. I think that came out in a very good way. In hours of tragedy like this, a lot of good things come up."
Morishita said JSA wanted to hold an event looking back at Japan's earthquake to show Webster how the money they raised last year was used.
"We didn't do (any) feedback (after the fundraiser)," Morishita said. "So many people got involved, and we think this is sort of in appreciation of those people. I just wanted to know, 'What do they need now?'"
Share this post