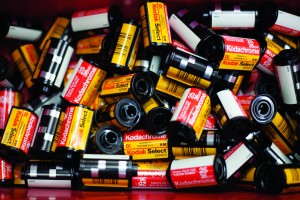 By Joshua Maassen
"You give us those nice bright colors/You give us the greens of summers/ Makes you think all the world's a sunny day."
"Kodachrome" by Paul Simon plays over small stereo speakers inside the lab at Dwayne's Photo, adding to a hectic but lively mood of the staff in Parsons, Kansas.
Kodachrome, the iconic color film, will be part of film photography history, as it will roll through a processor for the very last time this week at Dwayne's Photo.
Photography students, senior Lisa Lauber, juniors David Nash and Ashley Armbruster, along with photography professors Bill Barrett and Susan Stang, traveled to Dwayne's to document the final days of Kodachrome processing.
During one of professor Stang's color photography classes last spring, Nash and Armbruster collaborated with other students to form a final project with Kodachrome. Stang arranged with Dwayne's Photo so that film sent from Webster's photography department would be part of the last batches of Kodachrome the lab would ever process.
"Whenever the project first came about, I thought it could be a big thing," Armbruster said. "Once Susan told us that the project escaladed so much I started getting excited about it."
Eastman Kodak began making Kodachrome in 1935, and it quickly became the first successful commercial film and a favorite film among National Geographic photographers. Kodachrome is a high quality color reversal film, which produces a positive image on the film base, which can be individually mounted onto a slide image and viewed using a projector.
"The things that make Kodachrome unique and wonderful were also the reasons Kodak said we can't keep doing this — there isn't enough volume to support it," said Grant Steinle, vice president of operations who now runs the family business after his father Dwayne Steinle retired.
Grant Steinle welcomed the hundreds of packages of film that filled the lab before noon on Dec. 30, 2010 which was decided as the deadline to receive unprocessed film. Dwayne's Photo received packages from six continents, as it was the very last place in the world to develop Kodachrome.
On the afternoon of Dec. 30, the lobby and parking lot of Dwayne's Photo became increasingly congested with photo enthusiasts, documentary filmmakers and national media.
"For the last week we've been running it (the processor) around the clock," Grant Steinle said. "In the last week we've seen more like 10 times or 12 times increase in volume."
Grant Steinle gladly explained the intricate 14-step process to develop Kodachrome while leading the Webster students and faculty on a tour through the lab.
"The operation at Dwayne's Photo was a lot larger than I expected it to be," Nash said. "It's amazing to see everything in action."
Photography professor Bill Barrett remembers when Kodachrome was a leading color film.
"When I got out of college I lived in Fair Lawn, New Jersey," Barrett said. "I lived three blocks away from the processing lab. I would drop it off in person and pick it up the next day, so Kodachrome was easy to do then, it was very different then."
The Webster Kodachrome project doesn't end in Parsons, Kansas however, as Stang and Barrett have arranged to exhibit photographs mid-April 2011 in The May Gallery located on the second floor of the Sverdrup building. A photo book will be released in conjunction with the gallery opening.
"Everyone who participated, really its in their hands so they get to be part of an important milestone in photographic history," Stang said.
Share this post