Webster University hosted the "Comeback Tour" as students returned to campus. Students like Leah Dwyer believed the in-person atmosphere helped bring a sense of community to campus. 
For the first time since the pandemic, Webster students had a chance to connect in person during the Comeback Tour. Whether it was at Welcome Weekend, the Gorlok BBQ or the Llama Petting Zoo, students were able to get to know one another in ways that weren't possible last year.
Webster student Leah Dwyer attended the Llama Petting Zoo, which was held from 11 a.m. to 2 p.m. on Aug. 26.
"The Comeback Tour was such a special week because it gave everyone the opportunity to go out and experience some really cool things while actually interacting with people in real life," Dwyer said.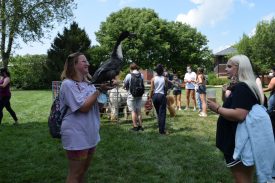 Dwyer believes the Comeback Tour brought a feeling of community that students had missed last year. She said the in-person events were far more engaging than if they had been done virtually and said she "can't even describe" how happy she is about having this community back.
"I think it's really important for new students to get the in-person interaction and face-to-face meeting," Dwyer said. "Thanks to this Welcome Weekend, I now know so many people on campus, and it really warms my heart to be able to say 'hi' to people on campus and see so many friendly faces on the way to class!"
Dwyer is not the only student who thinks the Comeback Tour has been critical for student engagement. Abigail Edgar, another attendee at the Llama Petting Zoo, had a similar take.
Edgar is a firm believer that the huge turnout at the events fostered a great experience for everyone involved. She said that the experience of in-person events is irreplaceable.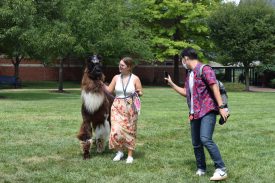 "I think that having the events in-person does wonders for helping students connect with each other," Edgar said. "I met so many new people at all of the events I attended and I got to spend quality time with the friends I already had here at Webster."
"Making connections" was the overarching theme of these events. Starting on the first day of Welcome Weekend, new students and returning students alike were able to connect through their Webster experiences.
Connections leader Paul Vo Le said the in-person events were far more popular than last year's virtual counterparts. This year, students were able to immerse themselves in their environment which, according to Vo Le, improves their social experience.
"Not only does [the Comeback Tour] boost your college experiences, but it also helps you make more connections with fellow students way easier," Vo Le said.
Nguyen An Nhat Mai, another Connections leader, said the Comeback Tour even helped students transferring from foreign countries bridge the cultural gaps.
"Having all the events in-person definitely helped me to connect with my mentees a lot more," Nguyen said. "Some of [my] mentees, they are from different countries and they just came here without knowing about culture. Some even have problems with language."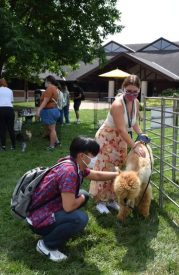 Though her mentees had to make a tough transition, Nguyen said the Comeback Tour was essential for integrating into their new environment. She said that these events are where these students learn about their new school and make friends.
The opportunity to connect with peers before and during the first week of school was not just about fun. It also eased a lot of new students' anxiety.
Transfer student Dusty York experienced this firsthand when faced with the task of having to make new friends.
"I think [the  Comeback Tour] impacted me in a positive way. I was really anxious starting at a new school and having to make new friends, but these events really helped with that. They also made me feel more connected to the community here at Webster," York said.
The Comeback Tour provided new and returning students with opportunities to make new connections and blend into the Webster community.
Share this post