Webster University hosted spirit weekend on Feb. 7 and 8 to bring alumni, students and parents together.
Webster University hosted Spirit Weekend Feb. 7 and 8 to highlight both former and current students. Before 2019, Spirit Weekend took place in the fall, as part of Homecoming and Alumni Weekend. Chancellor Beth Stroble said the university wanted to dedicate a weekend to student life, while still involving parents.
[Parents]
Billy Ratz, director of parent engagement, wanted parents to have a glimpse into the lives of their students.
"Webster is one big family and parents are a part of that family too," Ratz said.
The university invited parents to breakfast at Marletto's Marketplace in a Facebook Live event. Members of the Parent Council were on hand to answer questions, while parents who were unable to attend had access to the video stream on Facebook.
Sara Harms, a visiting parent, took part in the breakfast.
"I think it's great," Harms said. "Having things like a Facebook Live are really valuable for parents who can't be here."
Shelley Simon and her husband, Michael, both members of the Parent Council, attended the event. Shelley Simon said Spirit Weekend used to focus more on alumni.
Ratz said the kick-off featured renovations in Sverdrup last year. This year, the university focused more on energizing guests for the weekend with a pep rally.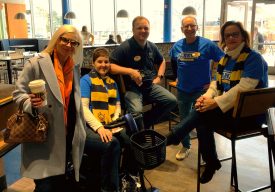 Harms, who attended the kick-off, discovered the Chordloks and the pep band at the event. She said she enjoyed the welcoming ceremony the most.
"It's fun," she said. "Seeing people gathered together, and… getting to see and feel what Webster is all about."
Spirit Weekend allowed parents to learn more about life on campus and the university itself. It also involved younger siblings with Sibling's Night in the residence halls and a painting session in Browning Hall.
It did more than involve current students and families, though. With the Athletics Hall of Fame, the university also embraced former students.
[Alumni]
The Student Life Hall of Fame recognized individuals who significantly improved student life at Webster through campus involvement. Student Affairs presented the honor to former student leaders and employees. The Student Life Hall of Fame began in 2015 and now has 20 members.
Alumni comprised all four inductees this year. Each inductee took to the podium to tell stories about their time at Webster.
"It makes you proud to be a Gorlok," Stroble said during a Spirit Weekend Speech. "When you hear all of these stories about how this institution, because of its values and its focus on students first has made such an impact across all of those years."
The next day featured athletes getting inducted into the Webster Athletics Hall of Fame.
Stroble considered the Athletics Hall of Fame Induction Ceremony the 'crowning moment' of the weekend. The ceremony celebrated previous and current contributors of Webster Athletics.
Webster inducted six people into the Athletic Hall of Fame this year, including five former athletes and a long-time athletic administrator. The ceremony also presented Larry Furrer with the Webster Athletics Pioneer Award, and Amy O'Brien with the Student-Athlete Advisory Committee (SAAC) Appreciation Award.
"I don't think this award is really about me," Furrer said. "This award is about what I stand for, and what I stand for is Webster students. I think that's what we all stand for."
The Webster Athletics Hall of Fame now has 50 members. This year included inductees from baseball, men's and women's soccer, softball and men's golf.
Neil Devasto was inducted for his role as athletics administrator and sports information director from 1984 to 2017. Devasto had transitioned Webster into full-time members of the NCAA Division III.
"One of the reasons we decided to start the [athletics] program was to fill a huge hole in our student activities and bring in more students," Devasto said. "We had no scholarships or facilities, and we had a few recruits, but really we were relying on current students to fill those teams."
He also added eight sports to Webster (baseball, men's and women's basketball, women's cross country, men's soccer, men's and women's tennis, and volleyball) during his time as athletic director.
[Current Students]
Over 330 students, parents and siblings packed into Grant Gymnasium to cheer on both Webster basketball teams. The women's team won, 115-38, and the men's team won, 83-72, both over Principia College.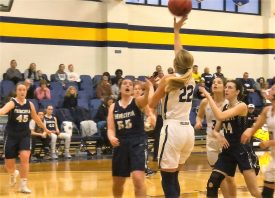 The women's team had their senior day honoring forward Kaylee Heggemann and team captain guard Jaysea Morgan.
"It's a heavy weight to be on my shoulders, but I take it on and really enjoy leading these girls," Morgan said. "I just hope that they pick up what I put out on the court and take it with them for the rest of the years they play."
The Athletics Hall of Fame inductees and Pioneer award winner Furrer received recognition during halftime of the men's game, during which the team improved its winning streak to six games.
Outside the gym, the Parent Council sold spirit scarves to benefit the Parent Fund.
Ultimately, Spirit Weekend ended with a student-only dance, with about 140 attendees. Lisa Camp, a student supervisor, advertised the events and coordinated the student formal. She also arranged vendors, a DJ and a photo booth.
"The dance went pretty well," Camp said. "Students have always asked for a student dance, and so we plan to continue to host one each year."
Share this post