The Women's soccer team looks to continue their reign as one of SLIAC's power teams.
Given the level of success that the women's soccer team has accumulated over the course of several years, they have emerged as one of the most dominant forces in their conference. They have made it to the SLIAC (St. Louis Intercollegiate Athletic Conference) championship tournament for the past six seasons and they have secured a winning record every season since their program began in 1999. The team has started this season off with back-to-back wins and they look to continue their winning record streak for a 19th straight season.
Head coach Luigi Scire attributes their success to having talented players who were committed to doing whatever it took to will the team to consecutive victories.
"The student athletes that are on this team are very good players, they're confident individually and as a team, they're very disciplined in terms of their goals," Scire said. "I love being around this team because they're so focused on what they want to achieve."
The team finished last season with a record of 19-2 and they have been ranked number one in this year's preseason coaches' poll to win the SLIAC championship. Though despite all the hype surrounding the team this season, last year's season came to a bitter end with a shutout loss to Loras College.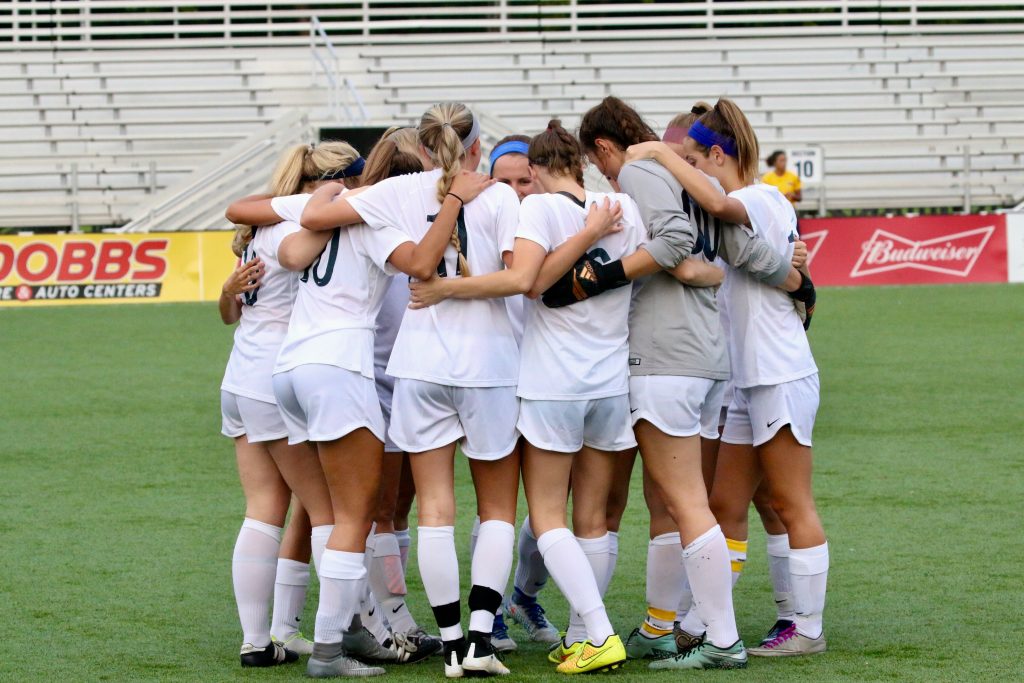 Despite the loss, Scire refuses to let the team dwell on the past and he is striving to continue to get his players to work hard and improve. He said the loss to Loras College takes nothing away from their remarkable season they had last year.
"Our goal is to continue to become a better team and to play the competitive regionally and nationally ranked teams, and do well against them," Scire said. "[The loss to Loras College] was one game, it doesn't take away from the tremendous success that they had last year."
Last season junior forward Melissa Kasper led the team in points, goals and assists. Now that she is an upperclassmen and a player that has experience playing on the highest level of SLIAC competition, she said she feels comfortable being a leader and setting an example for the younger players.
"I'm really embracing the opportunity to be a leader, I was voted a captain last year so I'm really taking that roll seriously," Kasper said. "Knowing that I already have two years under my belt and that I had success as a freshman and a sophomore, I just want to show the incoming freshmen, our sophomores, and anybody really, that success can start when you first come in and from their it just grows."
Kasper said the season-ending shutout loss to Loras College will motivate the team this season to prove that their performance in that game is in no way indicative of what they will do in this season's SLIAC tournament.
"It was really hard to lose like that and I think we have more to prove in this year's tournament," Kasper said. "That's not the type of team we are, we shouldn't be losing like that. Our record last year was a really good record so any losses this season aren't what we're looking for."
Scire said the team's success will require contributions from everyone on the team, even the 10 new recruits who have no experience with them. Freshmen defenseman Ryleigh Grommet is one of those 10 recruits and she remains confident that she will be able to prove herself to be a valuable asset to the team.
"Coming in we have a really good group that [Scire] recruited this fall, but I'm confident that I'm going to go out and work hard and make sure that I earn my spot as much as everyone else is going to," Grommet said. "I really believe that even though we're all out there fighting, he is really good at seeing who deserves playing time and when, and I think that we're all going to make sure that we earn our spot."
Share this post