As a student athlete at Webster, Kelly Strecker played soccer for the Gorloks for four years. When Strecker played soccer for the Gorloks, she suffered two concussions — one in 2005 and one in 2006 — but considers herself lucky. She said she doesn't have any post-concussion symptoms.
"Fortunately, I have no recurring issues from them," Strecker said. "I guess if I still played soccer, I would be a little nervous to head the ball or go up because it could happen again, so I'm a little more cautious when it comes to that."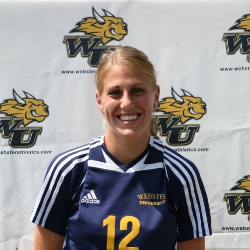 Strecker graduated in 2009 and now works for a public relations and marketing agency in Clayton.
According to the Center for Disease Control and Prevention (CDC), "Most people with a concussion recover quickly and fully. But for some people, symptoms can last for days, weeks, or longer. In general, recovery may be slower among older adults, young children and teens. Those who have had a concussion in the past are also at risk of having another one and may find that it takes longer to recover if they have another concussion. Symptoms of concussion usually fall into four categories: thinking and remembering, physical, emotional/mood and sleep."
Strecker said she had one other mild concussion as a child while playing basketball, but she hasn't had any other concussions or symptoms since she played soccer at Webster.
The NCAA's Injury Surveillance Program estimates 1.6 to 3.8 million concussions occur in sports and recreation-related activities every year. The NCAA also found all fall sports in 2011 — including soccer, field hockey and volleyball — mirrored the football findings, with 1.9 concussions reported for every 1,000 exposures.
Strecker said she suffered one of her concussions during a game.
"I went up for a head ball with another girl and we hit heads," Strecker said. "I went down and felt dizzy, and it was awful. I felt like I was going to vomit, and then came off the field. I'm pretty sure I took off about a week and didn't play any games just to make sure everything was OK, and got rest."
The NCAA recommends that if someone takes a blow to the head, they don't hide it but take it seriously. The athlete should tell the athletic trainer and coach to get checked out. They also suggest to take time to recover, because the brain needs time to heal. People are more likely to have a repeat concussion if they don't fully recover from the first one.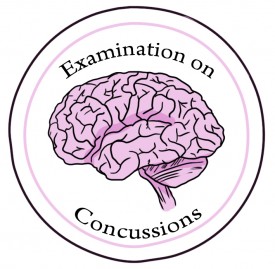 Strecker said that while her concussions weren't severe, they still had to take precautions with her.
"They (Webster athletic department) did the eye check test to make sure everything was OK and I think the first night I had to be woken up a couple times, so I didn't sleep all the way through the night. They checked me out the next couple days, but (it was) nothing to where I had to go to the hospital."
Share this post