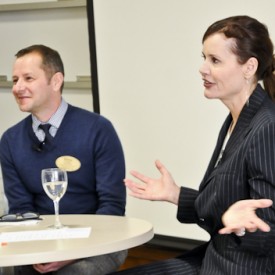 Eight years ago when Geena Davis' daughter was a toddler, they started to watch G-rated movies together. That was when Davis noticed the profound differences in the number of male leading roles in children's movies versus female leading roles.
"People maybe assume that stuff that is made for kids must be wholesome or educational in some way," Davis said. "It turned out that people were completely unaware of the gender disparity."
In partnership with the Independent Television Service (ITVS) and their Women and Girls Lead campaign, the Geena Davis Institute on Gender in Media established the video series to raise awareness about gender stereotypes in children's media and how it affects children's ideas about gender.
Davis, actress and advocate, made an appearance at Webster University last Thursday, Nov. 29, to celebrate  Webster's participation in the making of a video for the institute's series, "Guess Who?"
Aside from Webster, students at Boston University, the University of Southern California (USC), Columbia College and Lipscomb University also contributed entries for the series. The video entries will air nationally on PBS in March.
A representative from the Geena Davis Institute on Gender in Media contacted Professor Aaron AuBuchon to see if Webster students would be interested in creating a "Guess Who" video. AuBuchon recruited a production team of Webster students and alumni with video production experience. He asked Webster alumna Sarah  Williams to produce the piece and Gorlok TV staffer Brittany Larimore to do the writing.
The one-minute piece detailed the life of Stephanie Schroeder, professor at Webster. Schroeder is also a dog breeder and a geneticist. The production team interviewed a diverse group of children, a mixture of boys and girls ages 8 to 10 years old. They interviewed each child individually and asked them to describe what a geneticist, a dog breeder and and professor would look like. A majority of the children used male pronouns to describe the gender of the person who would have these occupations. They were surprised to learn that Schroeder is a woman who does all three of those occupations.
In 2004, Davis founded the Institute on Gender in Media to conduct research on the various discriminations in children's media. She said her goal is to share the research with the media outlets producing movies and television for children.
The institute has conducted extensive research with the help of Dr. Stacy Smith and her associates at the USC Annenberg School for Communication & Journalism. Smith is a professor at USC with research focusing on children's responses to mass media. Davis said the research focuses on every facet of the characters in children's media — including eyelash length, function, aspirations, race or ethnicity and occupation.
"Our main function is to do the research and then bring that directly to the creators of kids' media," Davis said. "We go to all the studios and the networks, the writers, producers and animators guild and present the research to them. I didn't know how they were going to react but uniformly, they are all shocked."
According to the institute's website seejane.org, males outnumber females 3 to 1 in films made for children and the ratio of males to females has stayed the same since 1946.
AuBuchon and his team of video production majors, alumni and GTV staffers were able to film the children's interviews in one day. Larimore said it didn't take that long to write the piece and it made her think about the movies that she watched as a child.
"It made me think about my own childhood and how women and girls were portrayed in the films I watched," Larimore said. "Like Geena Davis said, I would like to think there would be a difference but when you look at the statistics, there hasn't been that much of a change. It makes me realize that there is a lot of work that still needs to be done."
According to Davis' foundation's website, the gender inequality present in the media has been the same for many years. Raising awareness about the imbalances is one way to reverse this trend.
"We (the foundation) haven't updated our research yet," Davis said. "I think when we do, and lets say in five years, I think the needle will have moved significantly and we're excited about that."
Share this post