The Webster University and Washington University volleyball programs have squared off 20 times during the past 28 years. And 20 times, the WashU Bears have defeated their crosstown rival.
When Webster hosts the Bears in a Wednesday, Oct. 3 match, the Gorloks will be up against history and a strong WashU squad that has compiled a 16-1 record this season. WashU enters the match as the No. 1-ranked NCAA Division-III team in the country, according to the American Volleyball Coaches Association poll.
So even though the Gorloks have won five consecutive matches — and 15 straight sets — they will enter their 21st all-time match against WashU as severe underdogs. And that's just fine with Webster coach Merry Graf.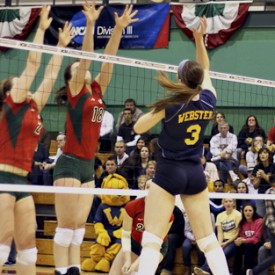 "I tell (the players) every year that we book (the Bears) because they're right down the street. It's a great learning experience for us to play (them) — not everybody can get the opportunity to play the top-ranked team in the nation," Graf said. "But when we go into a match like that, the way we take it is most people don't believe we can win. But certainly we know that the possibility is there.
"Anybody can beat anybody on any given day. That's what we go in looking to do … just play a clean game and see what we can do — see if we can make some noise against them."
In the Webster-WashU all-time series, the Bears have won 58 of 62 sets played. WashU has shut the Gorloks out 3-0 in the teams' previous four matchups, including two last year. WashU knocked Webster out of the 2011 NCAA tournament with a straight-sets win in the first round.
Graf said the Bears hold a mental edge over a vast majority of their opponents because of the program's storied past. WashU has won 10 national championships, an NCAA record, including six in a row from 1991 to 1996.
"Just knowing that, the psychological part of the game is probably the challenging thing for opponents," Graf said. "They're kind of walking in there a little bit afraid. The way I take it is we shouldn't be afraid to play them because, you know what, we're the underdog in this."
In preparation for their match against the Bears, which will begin at 7 p.m. at Grant Gymnasium, the Gorloks pounded Illinois College (6-9 overall record) 3-0 (25-14, 25-15, 25-20). With the nonconference victory, Webster improved to 8-6 overall. Webster remains 6-1 in St. Louis Intercollegiate Athletic Conference play.
The Gorloks are on a five-match winning streak for the first time since the midseason of 2011, when Webster won seven consecutive matches. Graf said a major reason for the turnaround is the return of players who were nursing early-season injuries.
One of those players is sophomore middle hitter Emily Ratkewicz, who recorded seven kills and five blocks in Webster's win over Illinois College. Ratkewicz missed the Gorloks' first seven matches of the season due to a sprained left ankle.
Ratkewicz said the Gorloks have picked up their play since a 3-0 loss to SLIAC rival Greenville College on Sept. 15, the team's last loss prior to the current five-match winning streak. She hopes that high level of play continues into the match against WashU.
"We need to go into every single match fired up. Whether we win one, lose one, whatever it is — we need to go in fired up, which we've been doing very well at," Ratkewicz said. "We just need to focus on our game. We need to pass the balls we're given and try to just execute our plays. We know that WashU is going to have a great offense, so we just need to answer back with a better defense and a more aggressive offense."
Junior defensive specialist/outside hitter Liz Abraham, who notched a team-high 19 digs against Illinois College, said "things are just clicking" right now for Webster. Defensively, Abraham and the Gorloks will be tested by a potent Bear attack that includes senior outside hitter Drew Hargrave, a 2011 All-American who leads WashU in kills this season.
"We know that they're a good team, obviously," Abraham said. "We played them last year, we played them my freshman year. I think we're just going to play our hardest — that's all we can do — and hope to come out with a win."
Graf said her team will be well-prepared for WashU because the Bears play the same defensive system as the Gorloks.
"We know the holes in the defense pretty well since we know what we have a hard time covering," Graf said. "Now it's our turn to try to exploit that against them. Obviously it's going to be challenging, but that's what we'll look to do."
Share this post