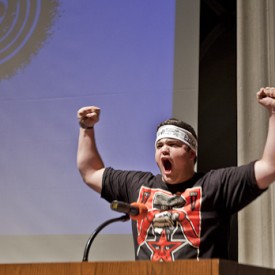 The week long live action role-playing game known as Humans vs. Zombies (HvZ) has spread across the nation. It all started with a trip to a going-out-of-business toy store.
"We all took a trip there and got a bunch of cheap Nerf guns and we were like, 'We should make a game to play,'" said Chris Weed, one of the creators of HvZ.
In 2005, Weed and his then-roommate Brad Sappington at Goucher College in Baltimore, Md., sat down to create HvZ — a game now played on hundreds of college campuses.
"It just sort of grew. It wasn't something we planned. We didn't think we'd get other schools to play. People just started developing their own plans," Weed said.
Weed and Sappington are both fans of the zombie genre but said when creating the game, they didn't intend on zombies being a facet of the game. They ended up just working their way into their games.
"I've always found that zombies are really interesting characters," Weed said.
Weed's interest in long-form games like HvZ came long before college, though.
"When I was in high school I had a teacher who told me about these week-long capture-the-flag games they would play. And they'd have to have someone guarding the flags at all hours of the night or someone would sneak in their room and steal it," Weed said. "That was the moment when I decided I really wanted to go to college."
Weed said HvZ itself spawned from a much older game called Assassins, where players are given another player's name and they must eliminate them however the game's rules dictate. But as the game evolved amongst Weed and Sappington's friends, HvZ was created.
When the first game started, Weed expected players to carry on their normal lives while playing the game. Instead, he was surprised by how serious some players took it.
"There was this new culture that sort of emerged where (HvZ) was all they would do," Weed said. "Their entire life became focused around it."
Longtime moderator of HvZ at Webster University, Jeremy Day, said he sees the same phenomenon happening at Webster, but added that's what makes the game great.
"You play it however you want to, and that's part of the fun, is creating new strategies. You plan it however deep you want to," Day said.
In 2008, when former Webster student Sam Vest visited Truman State University, he saw HvZ in action and decided to bring the game to Webster. Through the sponsorship of Residential Housing Association, Vest had the game going the next year.
In 2010, Day took over as the head moderator at Webster and said his goal is to always help HvZ move forward.
"Every game is interesting," Day said. "Every game is different because we are always trying to be innovative. Every year we try to bring something new that we didn't do before."
To make the game more difficult, Day has helped build game economies, create achievements and challenges for players to take on.
But same as Weed, Day discovered he can't predict how players will react to the environment of the game.
"Every time something went wrong, it's like, we didn't expect the humans to do something a certain way and get themselves killed," Day said.
Over the years, HvZ has stirred up controversy when players' actions have caused harm to others or themselves or have broken school policies. Like last year, when a player from Webster climbed on top of the University Center. Or two years ago, when some Webster players threw rock-filled socks at other players.  But Weed and Day both say that the actions of a few players don't represent the whole community.
"There are 199 other people who did not do that (break the rules). The majority are having fun and playing the game in a safe and responsible manner," Day said.
Weed said the reason for these incidents is because of how easily players can become engulfed in the game environment.
"The more immersed someone gets into the game, the more fun they'll have. But that can be taken to an extreme when they forget to be safe sometimes," Weed said.
Weed said as a whole, HvZ has been a positive experience for players as well as himself. Today, Weed is still actively involved in HvZ. He still attends conventions and works to grow the license. One day Weed hopes to be able to make HvZ and game-making his primary source of income and quit his job as a manual laborer for an auction company.
"I've always loved games. That's always been my one passion. But even through high school, I never entertained the idea I could be doing that with my life," Weed said. "I always thought that would be a hobby. I still wake up some mornings and think 'Am I really doing this? Is this for real?'"
Share this post