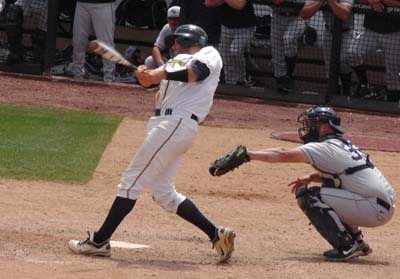 APPLETON, Wis. — With two outs in the bottom of the ninth inning and the Webster University baseball team trailing Kean University 7-6,  the Gorloks' hottest hitter for the past week and a half — sophomore shortstop Taylor Stoulp — stepped into the batter's box.
With two strikes on him and Webster's season hanging in the balance, Stoulp  calmly drove a single down the right field line that plated two, giving Webster its first College World Series win in program history. Stoulp's teammates sprinted toward him from two directions — the dugout and the bullpen — and the Gorlok fans frantically celebrated their team's come-from-behind win.
But Stoulp, who went 4 for 6 and extended his hitting streak to 20 games, had just one thought going through his head.
"I was hoping they wouldn't tackle me," Stoulp said with a big smile.
The Gorloks' 8-7 win over Kean University (N.J.) means the Gorloks — who blew a three-run lead — are going on, while the Cougars — who blew a one-run lead twice — are going home.
"That could have been one of the worst games I've ever been in," junior pitcher Steven Dooley said. "But then it was a phenomenal comeback. We just tried our best to keep everybody in the game, keep the bench loud. We pulled it out."
Webster entered the bottom of the ninth down 7-6 to Kean. Dooley, who was called on in the sixth to relieve freshman starter Isaac Behme, gave up three consecutive one-out singles to the Cougars' 8, 9 and 1 hitters. Before the inning began, Webster and Kean were tied 6-6.
"(Dooley) did what he was supposed to," Webster coach Bill Kurich said. "The ball found holes, but he was awfully good."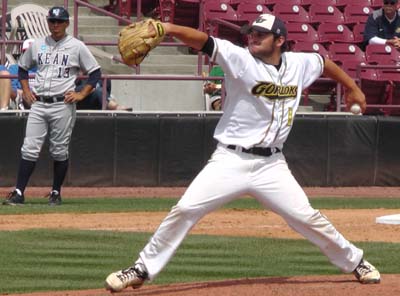 To get to the fateful ninth inning, Webster and Kean, both knowing this game could be their last of 2012, were locked in a see-saw battle that featured lead changes, an early pitchers' duel and some similarities to Webster's game yesterday, a 3-2 loss to Wheaton College (Mass.).
Behme, a lefty, was cruising in the early stages of the contest with two 1-2-3 innings to open the game. He came into the day with a  6-2 record and a 2.11 ERA, and opponents were hitting .203 against him.
Senior first baseman Tom Henke singled and stole second base in the top of the first after Stevenson was tagged out in a rundown between first and second. However, like yesterday, Webster's aggressive base running appeared to take momentum away from the Gorloks. After two strikeouts to open the bottom of the second, Webster put two on with singles by senior catcher Matt Moore and sophomore second baseman Kevin Kojs.
Freshman left fielder Charlie Gandolfi stepped up to the plate with two on, and Webster put on the double steal. Kean starting pitcher Ryan Zamorsky, an All-American first team selection in 2012, and the Cougars didn't fall for the trick. Moore was thrown out between third and home.
"We steal all the time — that's the way we play," Kurich said. "If we're safe, it looks great. If we're out, we don't worry about it too much. We had a double steal on, they throw the ball right back to the pitcher. Everybody did what they were supposed to do. But (Kean) handled it the way they were supposed to, and they got us."
The top of the third inning was Webster's biggest early-game struggle.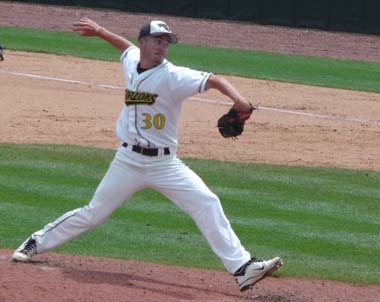 Kean first baseman Nick Zucchero singled to open the frame, and two batters later it was second and third with one out. Left fielder Shane Alvarez recorded an RBI groundout to put the game's first run on the board. Another single brought home another run, and Webster trailed 2-0.
"I was just trying to keep throwing strikes, keep throwing ground balls and let my defense do the work," Behme said. "Hopefully, everything comes out alright … It was early in the game, so we knew we still had chances to score runs. I knew we would get some runs."
Junior right fielder Alex Kazmierski led off the bottom of the fourth with a walk, but junior designated hitter Mike Rainbolt grounded into a 1-4-3 double play. Next up was junior third baseman Mitchell Bonds, who hit a solo home run over the left-field wall to make it a one-run game.
Behme found his way out of several small struggles after the third. After a one-out single by Kean's Steve Sanguiliano meant, Kurich decided to make a move to the bullpen.
"It was kind of tough just because I hadn't gone out there — I hadn't had the first visit yet," Kurich said. "I just thought the time was right. It was the third time they had seen him through the order and Dooley would give us a little more velocity, along with that good changeup. Isaac was disappointed in that he didn't want to come out as a competitor, but he handled it the right way. He did a great job. He gave us a great game today."
Kurich brought in Dooley, who got Kean catcher Eddie Jennings to ground into a 6-4 double play.
With two away in the bottom of the sixth, Bonds was hit by a pitch, and Moore followed that up with a walk. Kojs then recorded his third hit, this time a two-RBI single to score Kazmierski. Bonds slid into home under the bobbled catch-and-tag attempt to give the Gorloks a 3-2 lead. Kean coach Neil Ioverio came out to discuss the call with the home plate umpire.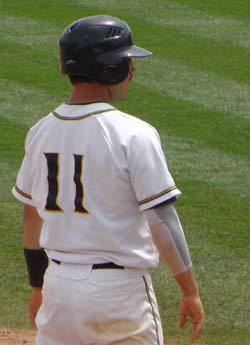 Kean's Joe O'Connor tripled with one out to put Dooley in a jam in the top of the seventh. D.J. Breckenridge was called on to pinch hit. Breckenridge struck out, and eventually the Kean scoring threat was extinguished.
Kazmierski and Bonds both contributed an RBI each in the bottom of the seventh to pad Webster's lead to 5-2.
The Cougars would not go down without a fight, though. Kean kept the hits coming, eventually cutting the Gorloks' lead to one run. A double-steal attempt by Kean was successful, and the haywire results included missed throws by Moore and Kojs. Kean scored four runs in the eighth inning to grab a 6-5 lead.
Stoulp helped knot the game up at 6 with an RBI single in the bottom of the eighth. It was 6-6 heading into the ninth, and Webster would eventually walk off after coughing up a three-run lead in a back-and-forth game that kept the Gorloks' season going.
Kurich said the Gorloks will be prepared for whatever team they face next. Because of rain, the remainder of Saturday's World Series games were postponed until Sunday. Webster will play the loser of the Marietta College-University of St. Thomas game on Monday, May 28 at 1:15 p.m. Marietta and St. Thomas play Sunday at 6 p.m.
"This team has a very good sense of starting over," Kurich said. "After the big win against Birmingham-Southern (on May 18), we came out ready to play again the next day. After a tough loss yesterday, we came out ready to play today. There's no magic speech. There's nothing in the John Wooden or Vince Lombardi book that tells you how to do things."
—  Josh Sellmeyer contributed to this report.
 Video: Highlights from Webster's victory over Kean from NCAA.com.
Visit websterjournal.com on Sunday evening for a preview story on Webster's next game, and find out who the starting pitcher will be for the Gorloks.  
To watch Webster's games, visit http://www.ncaa.com/sports/baseball/d3. All College World Series games will be streamed live for no charge.
Check back often during Webster's stint in the College World Series for daily stories and game briefs. For updates during Webster's College World Series games, follow The Journal on Twitter @wujournal.
Share this post