Mehndi henna art, hair braiding, foods from around the world and live music brought Webster University students together to celebrate international diversity at this year's iFest.

Video by Kristen Schubert
Cora McNeese walked up to the Mehndi henna art booth at iFest and asked the henna artist to draw something wild. Jess Moslander tried unfamiliar food from Ecuador. Both students experienced the diversity at Webster and engaged in the unique cultural booths at iFest. The event was hosted by the Multicultural Center and International Student Affairs (MCISA).
A purposeful stain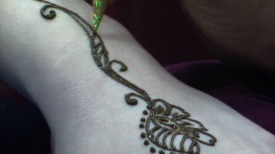 Mehndi henna is a type of skin decoration similar to a tattoo. Henna is not permanent or inserted underneath the skin. It is a stain on the outer layer of skin that lasts for about two weeks.
Countries like India, Pakistan and Bangladesh use Mehndi henna during special occasions like weddings and festivals. Henna art is also known for its use in religious or ritualistic ceremonies.
"It gets really cold at first, but after awhile it like flattens out and dries and it flakes," McNeese said.
A new taste
Jess Moslander is a resident assistant (RA) at Webster University. Her residents are mostly international students. She's heard a lot about the event and wanted to experience iFest for the first time.
Moslander said she's interested in learning about other cultures. Moslander visited Ecuador's culture booth at iFest. Although Moslander admits she is not familiar with Ecuador's culture, she said she enjoyed its food.
"I like the food, how it tastes. A lot of different cultures have spicier food," Moslander said.
A Unique University Experience

Moslander said she grew up in an environment where everyone looks the same and admits she enjoys the international diversity at Webster.
She appreciates the unique cultures at Webster, including students who speak different languages.
"It's just a new experience everyday for me," Moslander said.
McNeese also appreciates the diversity at Webster University.
Her "adopted aunt" Zahara came to the United States from Pakistan. McNeese finds Zahara's Islamic culture interesting.
She once took part in an Islamic prayer with Zahara.
Muslims use "prayer rugs" during their rituals. Muslims are not required to worship with prayer rugs, but the rugs ensure the cleanliness of the prayer place and isolate an area to concentrate.
McNeese also mentioned the top of the rug always faces East, which is the direction of Mecca in Saudi Arabia. Mecca is the Islamic center for prayer. Worshippers are required to know what direction Mecca is from their prayer place.
Global approach
MCISA Assistant Director Bethany Keller said Webster University values global citizenship, and for that reason she believes iFest one of Webster's most important events.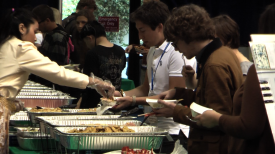 "This event truly brings all students together from diverse backgrounds, highlighting the value of diversity here at our campus and allowing our students to share with each other their diverse heritage."
Keller said even students who don't know someone of a different ethnicity can find similarities with other cultures at iFest.
"If you don't know anybody or you're looking to meet new friends, coming to each booth, asking questions about where students are from, things that you can do in your travels," Keller said. "These are all ways to peak your curiosity to learn more about the world around you and also, in turn, really make some new friends."
Share this post