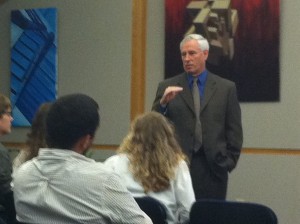 Directors and students gathered Nov. 3 to hear the administration's response to the Delegates Agenda, a list of concerns student leaders have regarding Webster.
Administrators addressed the top five issues that comprise the Delegates Agenda.
Sustainability
To no longer use coal by finding a renewable energy source for Webster by 2030 is the overall goal by student leaders. Greg Gunderson, Vice President and Chief Financial Officer of the Finance Department, told students there can be no promise of the university committing to that, mainly because it is 19 years in the future. However, he said the university does what it can and what it should for the good of the university and its students.
Gunderson informed students that with the construction of the East Academic Building, construction materials as well as pavement are being recycled, and the new building will save 34.6 percent in energy.
Transportation
Implementing a shuttle on campus was an idea strongly supported by student leaders. During Homecoming, administrators tested the theory and found that it was not as successful as some thought and will not be employed into Webster's services. The estimated cost of a shuttle for Webster is $2,000.
However, Metrolink passes are now available for purchase through the university.
Conservatory Issues
For conservatory students to be able to be more fully involved with campus, administrators said they are trying find a day in the week to pause classes for a certain amount of time. It is proposed that on Tuesdays, there will be no classes campus wide from 3-5 p.m.
Dissemination of Information
Campus information not being shared with students is a concern of student leaders. The renovation of Webster's website is being made in effort to both make the university more appealing as well as have information about Webster being easily attainable. Also, administrators advised students to look into student media such as Gorlok TV (GTV), Galaxy Radio and The Journal.
Dining Options
A lack of more nutritious food on campus is a concerns student leaders. There are several potential plans made by administrators to solve this, such as incorporating a food station with more healthy foods in dining halls as well as purchasing local produce.
Comprising an off campus meal plan is also an option.
For more coverage on the response to the Delegates Agenda, be sure to pick up the next issue of The Journal.
Share this post