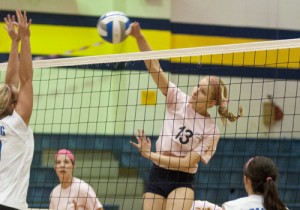 In their first match since losing freshmen starting outside hitters Jenny Howard and Jordan Vehlewald to injuries, the Webster University volleyball team defeated Blackburn College 3-0, (25-7, 25-15, 25-17) on Oct. 11 at Grant Gymnasium.
The victory over Blackburn improved the Gorloks' St. Louis Intercollegiate Athletic Conference record to 10-2, and their overall record to 13-5. The win was a bounce-back effort from a 3-1 loss to Spalding University on Oct. 7. Both Howard and Vehlewald were injured in that match.
Senior right side hitter Kelly McClure led Webster with nine kills and two aces in the Blackburn match. McClure said the team was able to work together after losing Howard and Vehlewald.
"After losing two of our good outside hitters, we came together as a team," McClure said. "We were shaky at times, but I think we pulled it together."
Coach Merry Graf said the team played inconsistently at times, but credits that to the lineup changes after losing Howard and Vehlewald.
"It's hard to prepare for this because we just lost two outsides," Graf said. "We're just experimenting with lineups. That's partially where the inconsistency comes from, but at times they looked phenomenal."
Blackburn entered the match against Webster with an overall record of 3-12, and a SLIAC record of 0-7. Webster didn't overlook Blackburn and was able to pull out the victory.
In the loss to Spalding, Howard collided with another player injuring her knee, while Vehlewald landed on a player's foot and sprained ligaments in her ankle. After losing both players, it was hard for the team to recover.
"We had never really played without Jenny and Jordan in the lineup," Graf said. "We'd played without one or the other, but not without both. That was kind of shocking. We threw people out there. I thought they did a nice job, but just not clean enough."
Losing two starting outside hitters is disappointing, but it hurt even more losing to Spalding.
"It was very disappointing just because it set us back in the conference," Vehlewald said.
Graf said the team made too many mistakes against Spalding, which can't happen against top-notch opponents.
"Our hitting errors were a big part of it," Graf said. "In a normal game when we play well, we're making maybe two or three hitting errors. In others, we're making five or six. Against good teams that's just too many."
The timetable for Howard and Vehlewald's return is undetermined, but it appears to be another week to two weeks until they'll be able to play again.
Webster travels to Colorado Spring on Oct. 14 and 15 for the Colorado College Tournament. The Gorloks play Spalding — which could decide first place in the conference — as well as Blackburn in an Oct. 22 tri-meet at Fontbonne. Webster's next home game is Oct. 25 versus Fontbonne.
Share this post