Click to hear one of Eliot's songs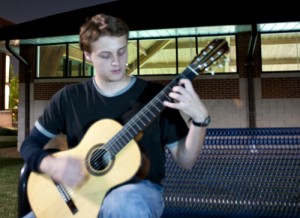 Freshman Eliot Wilde started playing guitar through the Childbloom program at age five.
"It wasn't my decision to start," Wilde, a Texas native, said. "My mom told me I should give it a try, I liked it and I never stopped."
Kevin Taylor, founder of the Childbloom program, taught Wilde guitar from age five until recently when he moved to St. Louis. Taylor feels honored to be a part of Wilde's musical journey.
"I'm fortunate to be able to experience that entire journey from the very beginning to college level," Taylor said. "As a teacher, you learn from that."
He finds it interesting to see the progression a musician makes. Taylor said Wilde's music isn't perfect, but he is advanced artistically.
Taylor remembers several performances Wilde gave where audience members cried.
"That's pretty special," Taylor said. "I don't think Eliot knew that."
It's not uncommon for Taylor to teach the same student from age 5 to 18, but it's not the case for the majority of his students. In Taylor's experience, many Childbloom students eventually lose interest in the program when they get to college. That wasn't the case for Wilde.
Wilde joined Taylor's Bella Corda ensemble, a classical guitar ensemble made up teens.  Wilde views playing in an ensemble as incomparable to playing solo. When playing in an ensemble, performers must pay attention to what everyone else is doing and avoid drowning out others, playing too softly or getting off rhythm.
"He pays a lot of attention to what everyone's doing," said friend Alyssa Catlin from the Mid America Guitar Camp and U.S. Bella Corda.  "He blends well with the other musicians."

At age 14, Wilde outgrew his beginner's guitar. Taylor inquired online about improving the guitar's sound with a YouTube video from Wilde's first solo concert. An anonymous donor from Virginia saw the video and sent Wilde a new concert guitar. He continues to use the guitar today.
Wilde wants to do something with music, but said plans for after college are still uncertain. However, he is passionate about playing and writing music. He has experimented with composing.
"It's fun to be creative with something you've never really done before (writing and composing)," Wilde said. "It's being more creative with a tool I've been using all these years."
Taylor said that Wilde has a talent for composing music and is curious to see what career path he takes.
"I'd like to see him expand and grow," Taylor said. "I'd like to see him be the best he can be at whatever he does."
Finding time to practice every day is important to Wilde. He is also taking solo lessons with John McClellan, retired Webster University guitar professor. McClellan works with the Mid America Guitar Camp, which is where he met Wilde. McClellan suggested Webster would be a good fit for Wilde. After being at Webster for several weeks, Wilde agrees.
He is currently studying music at Webster, with an emphasis in classical guitar. Classical music can be more note heavy, which is something Wilde finds fun. Most of his classes this semester are music related.
"I really like music so it's really enjoyable to immerse myself in that more," Wilde said.
After aging out of the Childbloom program, Wilde entered the Young Performing Artists program (YPA). He gave his last YPA performance on Aug. 27 at the Tavern of Fine Arts in St. Louis. Even though Taylor will no longer teach Wilde, they plan to stay connected.
Share this post