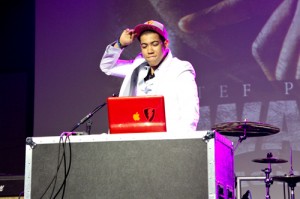 The opening acts for Girl Talk, featuring the rap duo Tef Poe and Rocky with DJ Kevin Mimms, and Samuriot, a ska band, brought an exciting energy to the stage to end SpringFest.
Campus activities conducted a poll on Facebook where students could vote for who they wanted to open for Girl Talk.  Kevin Miles, DJ Kevin Mimms, who DJed for the rap openers, was the original winner of the contest.
However, Girl Talk management did not want another DJ performing on the set, so Samuriot was asked to play.  Samuriot did their own set before Girl Talk, and Miles was allowed to DJ for Tef Poe and Rockwell Knuckles.
The only concern about Mimms performance was that it was similar to Girl Talks performance.
"It was an easy crowd stealer," Miles said. "I understand from an artistic standpoint why they didn't want me to perform before them."
Rappers Tef Poe (Kareem Jackson) and Rockwell Knuckles (Corey Barnett) and DJ Kevin Mimms brought their own brand of hip-hop to the stage.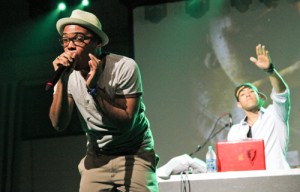 Tef Poe, usually a solo performer, got together with his friend Rockwell Knuckles to perform as the first opener.  Mimms added his own flare to their performance while acting as their DJ.
Tef Poe said he likes an energetic set and likes to distract his audience from the worry of everyday life.
"When you go to a show, you want to have a good time," Tef Poe said.
"You just want the music to help you escape and I try to bring that element through."
Tef Poe and Rockwell Knuckles' brand of "progressive hip-hop" is a different kind of rap than what most people may be accustomed to.
"So many times when you say 'rapper' all the negative things that people attach to rap come with that,
so progressive hip-hop is more of a way of saying that this is open-minded rap," Tef Poe said.  "I would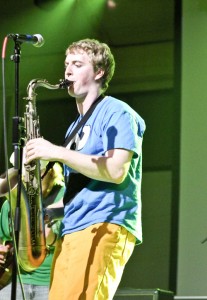 not classify us as your typical rappers.  I like to talk about everything under the sun … but I also like to have fun and on top of that, be as creative as possible."
Julie Greenough, freshman, said she loved the energy from the performers.
"They did a great job moving the crowd," Greenough said. "They did a great job getting everybody to dance and making me want to dance!"
The next act of the night, Samuriot, was a complete turn-around from Tef-Poes performance.  Band members Andrew Vogle (vocals and saxophone), Pete Wieigel (bass), Nate Golomski (vocals, trumpet, and keys), Tyler Jensen (drums), and Michael Belahsha (guitar) sounded ska to the stage.
Ska music is different from other genres because of its unique off-beat pace, more reaggae style of drums, and a more upbeat and  energetic feel.
"I enjoyed it more than I thought I would," Sam Maul, student, said. "I'm not usually into pop music or rock, but I love the way they mix it up!"
Samuriot played a mixture of cover songs and their original tunes.
"We never play straight copy," Golomski said. "If we ever play a cover song we like to take it, rearrange it, and make it our own, we don't just cover play."
Nell Fogg, freshman, also enjoyed the energy from the night.
"Their trumpet player was phenomenal," Fogg said. "They were fun.  They were good opening acts."
The rap duo and Samuriot got the crowd pumped before Girl Talk performed his mash-up tracks.
Share this post