Addison Beussink said her sister convinced her to play basketball in high school and college. She said she and her family continue to inspire and support her.
Addison Beussink, forward, recalls the third game of her senior season starting off really bad. She said she couldn't score and kept missing shots. However, Beussink would later join four other players in Webster history to score 1,000 career points and 500 rebounds.
Beussink's 12 points in the win against Lake Forest puts her at 1,008 career points. This places Beussink at eigth all time behind former teammate Jaysea Morgan who has 1,063 career points.
"It was exciting," Beussink said. "Honestly, it kind of just showed me that my hard work pays off. It was a good feeling, but I was more worried about winning the game."
According to Beussink, while in high school, she didn't come anywhere near 1,000 points. Due to this, she said scoring 1,000 points in college wasn't even a goal she set for herself. She said this achievement showed her how far she has come from high school to collegiate athletics.
One thing Beussink said changed in her from high school to college is her confidence. Additionally, she mentioned her current teammates helped her grow
"I feel like I play better because of the teammates I have now and the motivation my coaches give me," Beussink said. "I didn't really have that in high school so I definitely credit [this accomplishment] to my teammates and coaches. They have been a big part of it for sure."
Head coach Jordan Olufson, who achieved 200 career wins, said this accomplishment was truly a testament of Beussink's hard work. He also said this accomplishment was made possible through the teammates Beussink has.
According to Olufson, this is a true milestone in the program. He said it isamazing what she has accomplished.
"I felt so proud of her accomplishment, even with a shortened season and in terms of games played," Olufson said. "We haven't had a lot of 1,000 point scorers, so this makes it even more special for her and our program."
Beussink said she's proud of her achievement but it wasn't the goal on her mind heading into the season. She said her goal is never focused on scoring but rather on her team winning.
"A team win is way more important," Beussink said. "Making it to the national tournament would rank above this any day."
Beussink also credits a lot of her success to her family, who cheered her on from the start of her career. According to Beussink, she grew up in a very athletic household with three brothers and a sister. Her sister, Connor King, played basketball at Southeast Missouri State University, where she also achieved 500 career rebounds.
Beussink said she didn't know if she would even play basketball in high school until her sister convinced her to do so.
"I didn't decide to play basketball in college until my senior year of high school and I credit a lot of that to the fact my sister played basketball at SEMO," Beussink said. "She always told me, 'You need to take advantage of the fact that you can [play basketball in college]. Not everyone gets this opportunity and you will regret it if you don't.'"
According to Beussink, other family members who motivated her on the court and in the classroom include her cousins Andrew and Parker King.
Parker died at the age of 10 from a Utility Terrain Vehicle accident. Robin King, mother of Andrew and Parker, said in the Southeast Missourian she was just getting to the point of acceptance when it happened again: In January 2021, nine years after Parker's death, Andrew passed away unexpectedly. Beussink said the death of her cousins have made her grateful for opportunities in life.
"Just knowing that I am here, I am alive and I 'get' to play basketball is the biggest driving factor in my life right now," Beussink said. "Especially since [Andrew] died this year, my mindset has been like, 'I am here. I have two working legs and a body that allows me to do this,' so I just take the opportunities and run with it while I can because you are never going to know when your last day is going to be."
According to Beussink, with this new drive and optimism, she hopes to win the conference championship this season after losing last season on their home court to Westminster College. They also want to return to the National Collegiate Athletic Association tournament and hopefully win the national tournament.
Olufson said he wants to take the season game-by-game and get better each day. Beussink said watching Westminster cut down their net and celebrate on their home court last season motivates her even more to win the tournament.
"That was not the best feeling," Beussink said. "They took home pieces of our net. That was supposed to be ours."
Share this post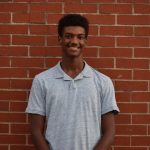 Kaelin Triggs (he/him) is the sports editor for the Journal. He is a journalism major pursuing a career in sports writing. He also runs for Webster's track and cross country team, and he enjoys playing piano and hanging out with friends and family.