Betty's Books offers literature like manga ang graphic novels to the Webster Groves community. owner Betty Bayer said pictures have the power to add depth to text stories.
It just got a lot easier to get into the world of visual literature here in Webster Groves.
On Oct. 23, Betty's Books officially opened its doors. Located on the corner of Lockwood and Summit avenues, the bookstore offers literature, including graphic novels, comic books, manga, picture books and children's literature.
The bookstore also promises its customers activities that the world of visual literature has to offer such as comic book drawing classes, story time and book clubs.
"The mission of Betty's Books is to provide our community and the St. Louis area with a fun and welcoming space to celebrate, learn about and share graphic books," owner Betty Bayer said. "We are committed to spreading the word that graphic books are for everyone and that the combination of art and text has the power to enrich our lives."
During quarantine last year, Bayer took online courses with the American Booksellers Association on how to open up an independent bookstore. Bayer always wanted to start her own bookstore, but her call to action stemmed from what she saw as an educator.
"When I was teaching and working with the public library, I saw how much young people really love graphic novels and manga," Bayer said. "I remember thinking that it would be cool if there was a library just for these types of books."
The demand for graphic novels and manga is becoming increasingly popular in literature. According to NPD BookScan, manga sales were up 43% in 2020 and according to ICv2 those same manga sales helped boost general graphic sales in 2021 by 80%.
And if you're wondering if graphic novels, comics or manga are "real" or worthwhile books, Bayer has an answer.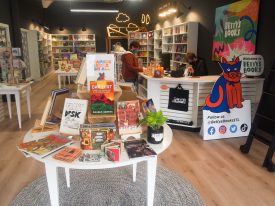 "Graphic novels are definitely real books. A book with pictures does not mean that it is 'for kids' or simple," Bayer said. "Pictures can add a lot of complexity to text and vice versa, and the combination of the two can accomplish things that each one on its own cannot, both intellectually and emotionally."
Webster University student and friend of the store, Cullen Curth, reminisced on the journey the store has gone through.
"It's been fun to watch the store come together," Curth said. "Betty and Alex [Arata] have been planning this for so long, so I've been trying to support them however I can and as a Webster student, it's an easy stop to make when I have a break."
For the future of Betty's Books, Bayer is looking to collaborate with local creators to create a zine, a self-published booklet of arranged art and text.
"I hope to work towards building a zine collection, hosting a zine fest, having local creator signing/art demo events, creators teaching classes and partnering with local groups that support creators such as AIGA, Small Press Expo and Nebula," Bayer said.
To help support Betty's Books outside of just stopping by the shop or buying a book in-person or online, you can join its founder's club, a tiered donation system where donors receive different perks based on donation amounts. All tiers include a Betty's Books tote bag, invitations to members-only events and your name on the store's "Wall of Heroes." Higher tiers range in perks from personalized birthday cards and gifts to personal access to the entire store during after hours.
Betty's Book is open Monday through Saturday from 10 a.m. to 8 p.m. and on Sundays from 11 a.m. to 5 p.m. to satisfy your visual literacy needs.
Share this post