Despite undergoing a surgery only weeks before his first match, graduate student Riley Muren broke the record for the most single wins by any Webster tennis player.
In the first round of the Intercollegiate Tennis Association (ITA) Regional Championships, graduate student Riley Muren faced off against Jamie Price from Otterbein University. At the conclusion of the match, Muren threw a little fist bump in the air before approaching and giving respect to his opponent.
He had just broken an eight-year, long-standing record for the most single wins by any Webster tennis athlete.
The previous record of 43 career singles wins was held by Ricky Eaves in 2013. Muren recalls the excitement he felt after the match knowing he just broke the record with his 44th career singles win.
"Everyone knew it was happening and it kind of put a little pressure on me," Muren said. "I think I played a lot better just knowing I had something to go for. I really wanted it and it forced me to play at that level of tennis that I needed to achieve it."
The ITA Regional Championships was an invitational tournament in which some of the top 64 single players and top 32 doubles teams competed. Muren and his teammate, freshman Carson Fisher, competed in the singles competition. Muren also competed in the doubles round with his partner, Matthew Birchmeier. This is the team's first year having a fall season since Muren joined.
COVID-19 forced the tennis team to have two back-to-back seasons with shortened schedules. One of these shortened seasons included Muren's senior year. According to Muren, this kept him from getting a chance to break some of the records and goals he set for himself.
Despite the struggles of COVID-19, Muren said the biggest roadblock he faced coming into this season was undergoing a surgery only a few weeks before the first match.
"I wasn't allowed to play tennis for three weeks," Muren said. "When I came back, it was not the same. It hurt a lot and was really uncomfortable. I couldn't serve really well, so it was definitely tough at first."
Muren had his surgery in mid-August and was sidelined until Sept. 6, which was the same day as the team's first match against Illinois College. However, Muren said his goals of breaking these records kept him going.
Muren's current singles record stands at 44 wins and 24 losses.  After winning his first round in the ITA Regional Championships, Muren lost in the second round to Rishil Kondapaneni.
Head tennis coach John Black said the first set and a half was the best set he had ever seen Muren play.
Black said the most impressive part about Muren breaking this record is how he broke it while playing at the No. 1 spot for every match. This means every single team Webster faced in Muren's career, he had to play against their best player.
"For him to break [the record] playing every match as number one is definitely amazing," Black said. "It shows his hard work, dedication, improvement and a lot of success on the court."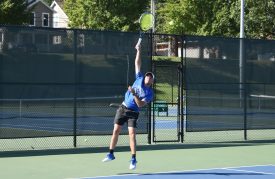 Along with Muren playing the No. 1 spot every year, this is the first time the team has played a fall season. Prior to this season, Mike Siener was doubling as the tennis and soccer coach. Due to soccer being in the fall, tennis only competed in the spring. According to Muren, this also presented with less of an opportunity to break the record.
Siener said Muren was a really important recruit for him and the team when he was the tennis coach. According to Siener, Muren had the talent and leadership ability needed to make the team and all the players around him better.
"Riley works hard and expects nothing but the best out of himself and his teammates," Siener said. "Taking on the top spot in singles and doubles each and every day and against the top opponents from the conference and Midwest region. He is very passionate about the game and I can't think of anyone else that's more deserving than him to hold onto that record."
According to Muren, this is not the end of his run. He also looks to break the doubles win record and the overall wins records, which includes doubles and singles. Muren currently has 34 doubles wins. The record for Webster is 35, according to Muren.
Muren said Siener really set him up to break these records. Muren gives a lot of credit to Black, as well.
"I am really excited and glad that I chose to come here," Muren said. "I appreciate Mike Siener for bringing me in and giving me a good experience, as well as John Black. They both really helped a ton with what I wanted to do and really cared about me as one of their players and have taught me some really good life lessons."
Share this post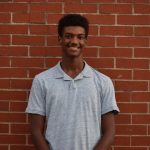 Kaelin Triggs (he/him) is the sports editor for the Journal. He is a journalism major pursuing a career in sports writing. He also runs for Webster's track and cross country team, and he enjoys playing piano and hanging out with friends and family.