Webster's Game Design program was ranked No. 1 in Missouri. Senior Zach Ridings was glad to see the program turn around after students reported Title IX violations in 2018.
Out of all the programs provided here at Webster University, the Game Design program is on top – literally.
As of Feb. 26, Webster was ranked as the No. 1 game design school in the state of Missouri by trade magazine "Animation Career Review."
The criteria that needed to be met for the ranking included: value as it relates to tuition and indebtedness, academic reputation, admissions selectivity, depth and breadth of the program and employment data.
"This achievement was a surprise, but it makes sense due to the quality of our Game Design program," said Webster Game Design instructor Matthew Burton. "I'm very happy to be a part of a program that strives for excellence, and excited to continue building and improving the program going forward."
Burton is a relatively new addition to the Game Design program at Webster University. He has only been here for about two years.
Before his move to Webster, Burton worked for the company Pixel Press in St. Louis. This is where he gained experience and sharpened his skill set by working with clients from companies like Cartoon Network and Disney.
While leadership from experienced instructors is important, the rank placement wouldn't have been possible without the students.
During this academic year, game design students have been working on a variety of projects. Whether it be something as classic as a 2D platformer or something as complex as developing a world in virtual reality, you can bet they've gotten their hands on it.
"It's fun, but it's hard," senior Game Design student Zach Ridings said.
Ridings is putting all his effort into his final year here at Webster. Among his acceptance into the program's media showcase, needing to develop his senior overview project in order to graduate and having four other project-based classes to stay on top of, the time needed for all that he's doing is similar to a full-time job.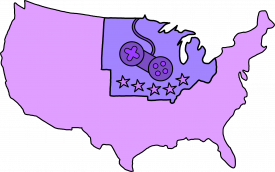 Even with how grueling the life of a game design student can be, he's appreciative of how the program's quality has turned around, as Ridings recalls a time when the Game Design program wasn't as glamorous as it is now.
In 2018, the Game Design program had to restructure after more than 13 students came forward to report a former professor of Title IX violations. In the wake of the allegations, the accused professor resigned, as well as former professor Rob Santos in protest against sexual harassment and predatory academic misconduct within the program.
This left a hole in the program that needed to be filled.
But with new instructors like Burton and Michael Breault picking up where the others have dropped off, their impact is felt throughout the program.
The quality of the Game Design program now is "as big of night and day difference as the Western and Eastern Hemispheres," senior Game Design student Justin Bryant said.
If you want to check out any of the games the students have made throughout the years, you can play them directly on their website.
Share this post