Justin Bryant attempts to improve gaming culture.
As a result of a Title IX investigation last semester, Webster's Games and Game Design program hopes to be more inclusive as the next co-ed sports team besides cheerleading.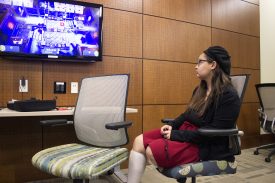 The Journal reported the possibility of the university getting an esports team in 2016. After almost four years of work, the team could become a reality. Game design major Justin Bryant hopes to have a sanctioned team at Webster in 2020.
"There's a lot more school interest," Bryant said. "Webster is seeing this is really important to the students. When we saw Mizzou get a 5,000-square-foot arena that's being built for their esports team, that's when [the administration] was like, this is marketable."
Bryant previously worked on creating a team with former game design professor Joshua Yates, who was accused of sexual and professional misconduct. Webster alumnus Tamsen Reed filed a Title IX complaint in the spring of 2018 against Yates.
Assistant game design professor Michael Breault told The Journal in September Yates resigned over the summer. The university said in a July 8 press release it does not comment or share details on any Title IX case as is compliant with federal law.
The NCAA website says, "Title IX requires that the athletics programs meet the interests and abilities of each gender." Bryant said Webster's esports team would be more than a boys club as he intends to make it co-ed. He said Yates' resignation was a "minor hit" to his proposal, adding he did work in a month which took Yates a year.
"I'm glad to see him leave because he was a problem and all the game design majors can see that. I'm just really glad that I'm in charge of the proposal fully," Bryant said.
The NCAA does not oversee esports, but this wouldn't prevent the creation of a Webster team. Maryville University, Greenville University and Principia College each have esports programs. Former game design major Claire Miller is skeptical a Webster team would do much to change gaming culture on a larger scale.
"I think, in theory, esports is already attractive to non-males. It's the toxicity of the community that keeps people away. They don't want to be harassed just because they're not male but good at games." Miller said. "The community needs to change for it to be better, but sexism and homophobia is hard to weed out apparently."
Principia's director of eSports Rob Terrell said as an official part of Principia's athletic department, there is a zero-tolerance policy for harassment or any similar matters. Terrell said competition in a virtual environment also offers all athletes a level playing field.
"You're a gamer. You're playing," Terrell said. "It's just kind of naturally becoming a little bit more welcoming, slower than some would want. [As for] how to market it towards females, I haven't really tried to change up how I would deliver my recruiting spiel to a male versus a female."
Bryant, who is waiting on final approval from School of Communications Dean Eric Rothenbuhler. He said his goal is to make the team welcoming to players of genders and backgrounds.
"My passion is just keeping me driven to get this going, not just for me because this is the new thing," Bryant said. "I want this to be something that is a legacy for students beyond my time here."
Share this post