Editor's Note: A person interviewed for this story, Gertrude Tate Helkey, uses singular they/them pronouns.
Some Webster students use second-hand fabrics to create online marketplaces and visual art.
Freshman Hannah Weber and sophomore Kelly Franklin established second-hand clothing marketplaces through online apps, Depop and Instagram. Former Webster student Gertrude Tate Helkey uses thrifted fabrics for visual art and fashion.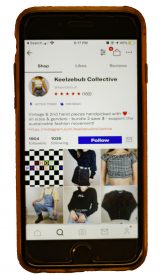 Franklin started thrifting in 2018 when the app, Depop, randomly popped up on her mobile screen. She began cleaning out her closet and selling clothes she no longer wanted. After running out of clothes to sell, Franklin began her thrifting journey and her business continued to expand, recently hitting 328 sales on her Depop page.
"It's really nice to do it online and spread the word for other people to be able to buy second hand," Franklin said. "It's more accessible."
The three share the idea of recirculating second-hand fabrics back into the world whether as a recycled trend or an art piece.
"You're giving these discarded things, these materials, these fabrics, these clothing articles life and a new identity," Helkey said. "Everyone that does things with sustainability is just trying to find new outlets to continue doing the same thing, but more effectively."
Helkey created a process of making portraiture made from reclaimed fabrics and clothes from friends, family and thrift stores. Although Helkey said they prefer their fabrics from people they know personally, they will also buy from thrift stores to spend as little money as possible.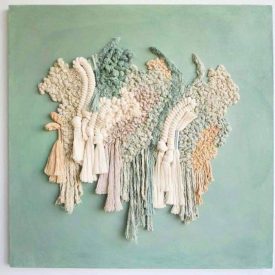 Helkey, Franklin and Weber said out of all thrift stores, they each prefer the Goodwill Outlet because it is the cheapest option for thrifting. At the Goodwill Outlet, customers dig through bins and spend a dollar per pound instead of per item.
"Thrifting is great for the environment because you're not contributing to fast fashion," Weber said. "You're buying someone else's clothes and usually thrift stores donate to a good cause."
Well-known companies compete with online marketplaces, like Depop, by reproducing styles that people wore in previous eras.
"I mean, they can try to replicate the style, but it won't ever have the same feel and look precisely as vintage clothing does," Franklin said.
The distinct differences between modern and vintage clothes are the material and process of how they're created. In previous eras, clothing was made by hand or with mechanical machinery on a very tight thread count level. Today, companies mass-produce clothes from machines.
"You can feel the difference because we're making things out of partial plastic synthetic materials." Helkey said.
The more clothes that machines produce, the cheaper the materials brands decide to use.
Typically, modern clothing contains materials with plastic blends, unlike vintage clothing. According to Helkey, designers and fashion brands don't produce wool or cashmere garments that are not at least 30% plastic blend.
"The styles from the '80s and '90s are all back, so why would you get a duplicate when you could just buy the real thing at Goodwill?" Franklin said.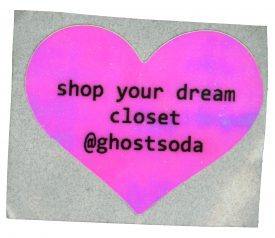 Weber said she has not shopped at a department store or the mall in four years because of her Depop page and desire to thrift.
"There's always the chance that it might not be in good condition, but I just think all the piece you find when thrifting are just so original and you can't find it anywhere else other than the thrift store," Weber said.
When Weber does not find any thrift goodies, she analyzes what to look for on her next trip.
"It's never a disappointment, it's just more of a learning experience," Weber said.9
Share this post