*Editor's note: Keiko Gooch and Jay Hinchman use the pronouns they/them.
Keiko Gooch has been acting since elementary school. Having lost the opportunity to act in theatre as a college student, they now uses drag as an outlet to perform.
"When I get into drag, I kind of forget that I'm wearing a costume, and I feel like I just slip into another person entirely, which I did as an actor as well," Gooch said. "Once you put on a costume that's far enough from what you wear, you take on the personality of whoever would wear that."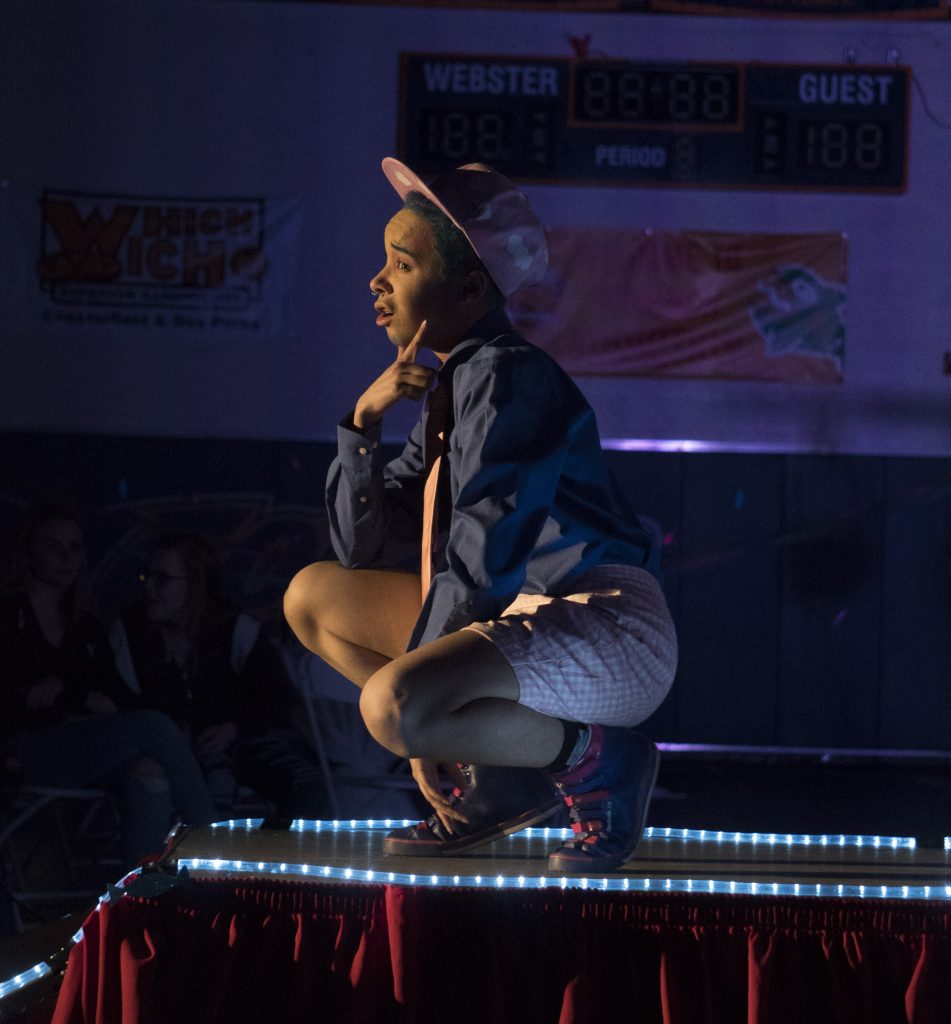 Gooch is a sophomore at Webster University and performs as a drag king under the stage name Kingdom. Gooch was featured as a student performer at Webster University's 22nd Annual Drag Ball on April 14.
The event featured both professional and student performers. The Drag Ball was hosted by Webster's LGBTQIA Alliance, Galaxy Radio and Chainlink Improv. This year's theme was Candy Land. Gooch said they was excited about the Candy Land theme because of its versatility.
"I really like that I'm able to put in candy with my look," Gooch said. "I like having a bit of flexibility to work with without feeling pressured to get myself into the exact theme."
Gooch first became interested in drag when they ran spotlight for last year's Drag Ball. They performed in a drag show for the first time last October and has been performing consistently since then. Gooch now performs around two shows a month on average.
Gooch lip synced to "Perm" by Bruno Mars during the show. Gooch said they wanted to do a song by Mars for a long time, and the Drag Ball provided the perfect space to do so.
"It's got such a great energy to it, so I was like 'I can finally do this song that I want to do,'" Gooch said. "I feel like having such a high energy song helps fill the space of the gym. I'm not used to doing shows in such a big area."
Gooch said they pulled ideas from early 2000s band performances to create their character Kingdom. They said Kingdom is outgoing and flirty. Gooch said Kingdom speaks to people with ease and loves interacting with an audience.
In comparison, Gooch said their personality is more timid than Kingdom's. They are more likely to make direct eye contact when speaking to people as Kingdom. Kingdom is very sociable, while Gooch prefers to be with smalle groups of people.
"I have a hard time with more than four people at a time," Gooch said. "Speaking in front of more than that many people is nerve wracking, but [as Kingdom] I can perform and sing in front of people."
Jay Hinchman is the vice president of Webster's LGBTQIA alliance and one of Gooch's roommates. They said they started doing drag at the same time as Gooch.
Hinchman said Kingdom has affected Gooch's personality. They said Gooch tends to be quiet around people they does not know. Hinchman said Kingdom has allowed Gooch to become more confident.
"They are definitely more sociable now that they have been Kingdom," Hinchman said. "People will approach them and like, 'Oh you're Kingdom,' and they'll kind of filter some of Kingdom's personality into their own personality."
Hinchman said they has seen Gooch perform as Kingdom many times. They said Gooch is extremely charismatic as Kingdom on stage. Hinchman said Gooch's acting experience is evident while performing and makes Gooch an excellent entertainer.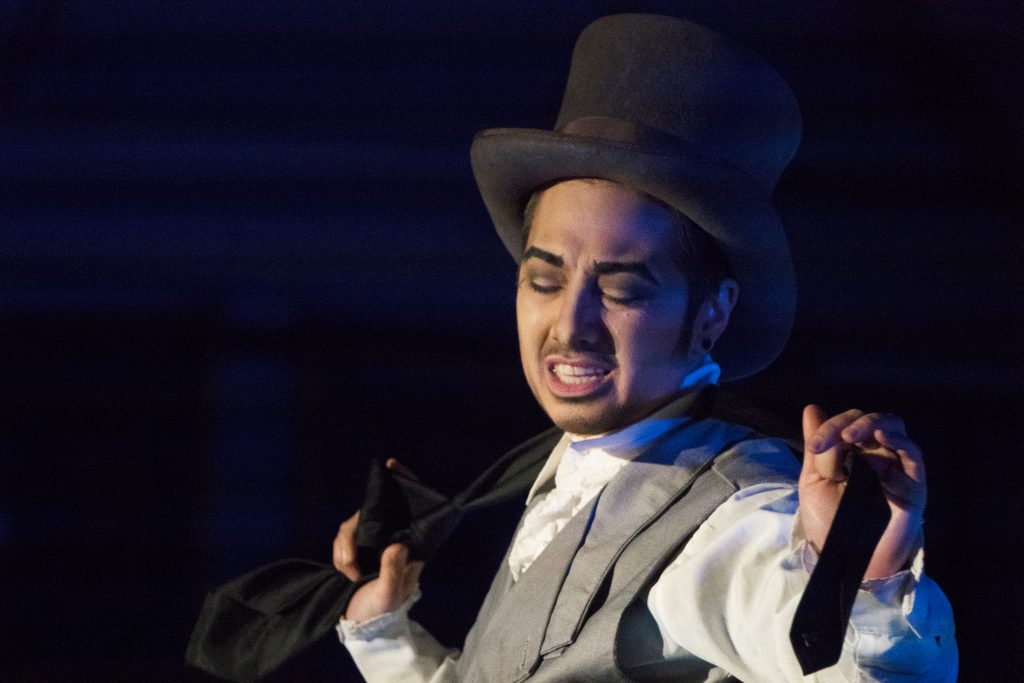 Rydyr is a St. Louis based drag king and hosted this year's Drag Ball. He often books Kingdom for drag shows around the St. Louis area.
Rydyr said Kingdom is engaging and charismatic on stage. He said Gooch's take on drag is interesting and draws in an audience. Rydyr said he admires Gooch's work ethic in their technique and choreography as a performer.
"All drag is valid, but not all drag is marketable," Rydyr said. "Kingdom has that certain something that really engages people."
Gooch said they usually does not get nervous when performing in front of large crowds. When Gooch does feel nervous, it is because they feels they are not prepared for a performance. Gooch said they gets over these nerves by receiving validation from the host of the show.
"I'll be standing up there behind the curtain and Rydyr grabs the mic to introduce me, and he's like, 'I love him. He's an up and coming king, and you should give him $20,'" Gooch said. "And I'm like, 'Oh, I feel good about myself."'
Gooch said their performance has continued to improve from the time they started doing drag. They said their costumes have improved as well as their performance style. Gooch said they has branched out by trying different dance moves and interacting with the audience.
While Gooch is studying abroad next semester, they said they hope to continue performing in drag and grow their audience. Gooch said they hope to continue performing in the Drag Ball while a student at Webster.
"It's going to be kind of sad for me to leave and go to Japan for a semester," Gooch said. "I hope to, in my last few shows here, land a punch that leaves a mark while I'm gone so people miss me, and I can come back ready."
Share this post