LEIDEN, Netherlands – The inauguration of Donald Trump made big news in Leiden last week.
Dutch broadcaster NPO Radio1 invited three Webster University students to speak on the live talk show "News and More" Jan. 20 from a school bus near the Webster-Leiden campus.
Two students are residents enrolled in graduate programs in Leiden; the other is an undergraduate from the Webster home campus. All three are originally from the U.S.
Graduate student Evelyn Demirchian said she went on the bus frustrated at the outcome of the recent U.S. election.
"I think this is extremely embarrassing. It's shameful that things have come to this point," Demirchian said. "But given the context of what's been occurring since the Tea Party popped up, I'm not that surprised anymore."
Show h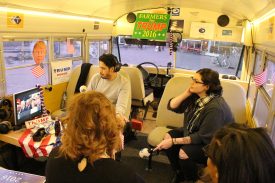 ost Mustafa Marghadi and crew have a knack for finding people that the news affects and bringing the listeners' voice onto the bus.
"We have such a good group of opinions today," Marghadi said. "This is what we wanted for the show."
Share this post