Even after losing five of six starters and nine seniors in total, head coach Merry Graf and the Webster University Women's Volleyball team looks to compete for another SLIAC Championship and, hopefully, national championship.
Underdog Mentality
Webster University was selected to finish second in the SLIAC conference this year in the preseason coaches' poll. They have won four consecutive tournament championships from 2011-2014. 
"I'm good with being an underdog. I have no issue with that," Graf said. "I think we will come out and surprise some people."
Graf believes that, despite losing nine seniors, there are still some strong upper class leaders to go along with two transfer students, junior right side Jory Siebenmorgan from UMSL and junior middle hitter Emily Knowles from Illinois Wesleyan, who will bring college experience.
The team will also rely on senior captains Rachael Nelson and Emma Cabutti.
Nelson was picked to second team all-conference as a middle hitter. Nelson led the team in total blocks last year and was second in kills.
The "Secret Weapon"
Senior defensive specialists and outside hitter Emma Cabutti was injured part of last year. Graf believes this can be used as an advantage because teams such as Greenville College, picked to finish first place this year in the SLIAC conference, have yet to see her play.
"We have our secret weapon Emma Cabutti. Teams haven't really gotten to see her play and they don't know what she brings to the table," Graf said. "She is doing a really nice job on the outside for us."
Graf believes the team is very strong defensively and that the strength is how deep they are on their roster to go along with how athletic the team is. She wants the team to focus more on their regional games to prepare them for playing better competition in the NCAA tournament.
Tournament Epectations
Last year, the Gorloks went into the tournament as the eighth seed and was seeded against the number one seeded team in the tournament, Emory University. Webster lost 25-19, 25-16, and 25-22. Graf hopes to avoid being seeded high so the team can have a deep run in the tournament.
"The coaching staff is almost giddy," Graf said about their attitude towards the upcoming season. "There is just a lot of talent. The girls are doing a great job and working hard on the court for us."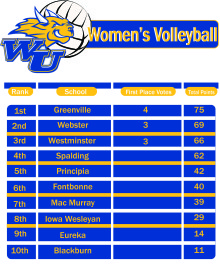 Share this post