Webster senior Brian Woodward's soccer career as a goalkeeper started at the age of 10. At first, he wasn't happy to be playing. Now, he is doing preseason training for Saint Louis Football Club (STLFC).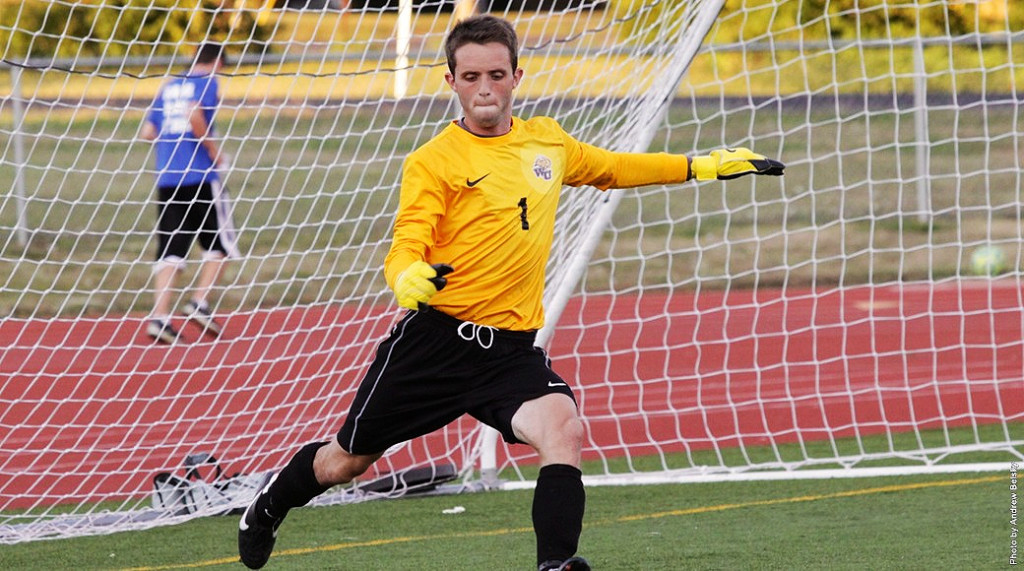 Woodward, 22, attended an open tryout for STLFC with 110 other players.  Those players were divided into different teams and played from 9 a.m. to 6 p.m.  Around 4 p.m., all the players huddled together, and the coaches read off 24 names, including Woodward's and divided those players into two teams for one last game.
Two-to-three weeks later, Woodward received a phone call from Brian Jones, the goalkeeper coach, asking if he would be available for a combine­­­ — a two-day showcase for potential players in front of the coaching staff.  The combine took place in early January.
The coaching staff at STLFC told Woodward to continue working with Jones, but they were not sure if they were going to keep him. Woodward and Jones trained for about a month.
"(Jones) brings a really positive energy while at the same time taking the time to teach you the fundamentals and the skills necessary to compete in the game," Woodward said.
Then one day, his phone rang. Jones was on the other line.
Jones told Woodward he was guaranteed a week of pre-season training in front of the coaching staff of STLFC. The training started Monday, Feb. 16.
"My mentality on this whole roller coaster ride is to enjoy every moment and perform to the best of my abilities," Woodward said. "But I'm also thankful for the opportunity to be a part of something this big."
Woodward's father, Paul, said soccer wasn't something Woodward loved at first.
"When he was four years old, he went to a youth soccer event in Ballwin, which didn't go very well for him," Paul Woodward said.  "He refused to play soccer after that."
Before fourth grade, Woodward's family moved from Ballwin to Eureka.  Brian Woodward wasn't excited about it.
"I had lived in the same house for my entire childhood and made many childhood friends,"  Woodward said.
His mother, Jean Woodward, signed him up for a soccer clinic to get him outside.
On the first day of soccer practice, Jean Woodward told her son to go score a goal for her.
Woodward's thought was to play in the position farthest from the opponent's goal: the goalkeeper.  Once the season was in full swing, Woodward realized soccer was something he wanted to continue playing.
"Once I really got to know everyone, I started to have fun with it," Woodward said. "That first day, we were rotating positions because we were so young. It was within a year that I was playing goalie consistently."
His soccer career took him to Webster University, where he continued as goalkeeper.
"I looked at a total of six different schools, all for soccer," Woodward said. "I had friends who were going to play there as well.  Webster's opportunity with studying abroad also stuck out to me."
In his junior year, Woodward said he had a poor performance in a game against Fontbonne University.
"I just know there was a particular play that I, and I'm sure other people, felt that I wasn't performing in the way I was capable of," Woodward said.
That play was a shot Woodward said he misjudged. A free kick was chipped into the box, or the penalty area. Woodward was waiting for a light touch, in which an outfield player diverts the ball to a teammate. The ball went right through Woodward, untouched, into the goal.
"I was not performing up to par and just felt really down on myself," Woodward said. "That's when my teammates got behind me. Individuals can only do so much."
Head Coach Mike Siener said Woodward has come a long way as a team member.
"As a team player, he's one of the best kids I've ever coached," Siener said.  "He's unselfish, intelligent and a natural leader. He has the qualities coaches are looking for."
Woodward said his proudest moment was playing Fontbonne in the semi-final of the St. Louis Intercollegiate Athletic Conference Tournament his sophomore year.
"I know at the end of the game, Coach Hoener (Fontbonne's head coach), came up to me, smiled and said what I did was some highlight reel stuff to remember for the rest of your life," Woodward said.
Share this post