The Webster University track team has made a habit of breaking both personal and school records this season. They continued that trend at the St. Louis University Invite (SLU) held on April 11-12.
Against a field that included NCAA Division-I and-II schools, the Webster  track and field team finished tenth in women's and fifteenth in men's overall.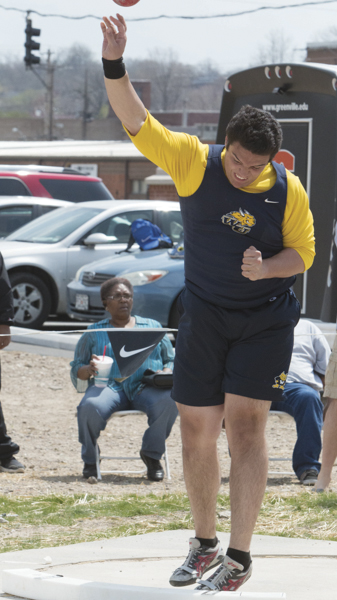 Junior Jason Hickson only had a few seconds to catch his breath after he completed the 6.2-mile race before he was bear hugged by sophomore teammate Charles Whitehead. Hickson did not win the race at the SLU Invite, but he was the first runner in Webster University history to break 34 minutes in the 10K. His time was 33:59.801.
Junior Jenny Howard continued her climb into Division III national rankings in the 200-meter. Her time of 25.10 is just six-tenths slower than the time that would have gotten her to nationals in 2013. Howard finished second in both the 200- and 100-meter.
On the men's side, fellow freshman Noah Laster was 16th in the discus with a 31.8 meter toss and fourteenth in the shot with a throw of 11.2 meters.
Sophomore George Foehrer set personal bests in the 400- and 200-meter dashes. Foehrer ran a 52.13 in the 400-meter  as he finished 22nd. In the 200 meter he recorded a time of 23.18 according to a Webster Athletics article.
Hickson's race didn't begin until just after 9 p.m. on Friday, April 11
Whitehead had already competed and run a new personal record in the 800-meter that day, but he added a few extra laps to push Hickson during his race. Whitehead and Head Coach Dan Graber cut corners on the inside of the track as they ran. Sometimes they met Hickson three times in one lap. Every time, they relayed strategies to pass a runner, move up to the next group or let it all out in the final laps.
The track and field team is in action next in Decatur, Ill. at Millikin University on April 19.
Video by Sam Masterson
Share this post