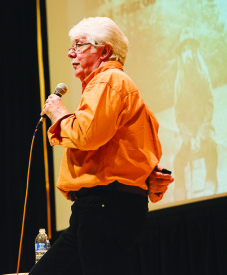 Chair of Webster University's Audio Engineering Society (AES) Andrew Witthaus said he could not believe how nervous he was on Saturday, March 22. He introduced the Beatles' recording engineer Ken Scott at the Central Region Audio Student Summit (CRASS).
Scott said before he had worked with names like the Rolling Stones, Elton John and Pink Floyd, he was a terrified teenager hiding in the back of a studio watching the Beatles record.
Scott, a southeast London native, said he "was fed up with school" and knew that he wanted to work in music. He had written letters to various recording studios on a Friday, and nine days later he was hired to work in the tape library, which today would be looked at as an archivist. He organized music tracks all day and watched the producers. The first time Scott met the Beatles was at EMI Recording Studios.
"There were a bunch of girls outside," Scott said. "There were the two Georges walking towards me — George Harrison and George Martin — and I just wanted to scream like the girls outside."
Scott said his second encounter with the band resulted in him getting kicked out by the Beatles' then-producer George Martin. The third time he met the band was as their second engineer in 1963.
Scott worked alongside Martin and said it was not easy. Martin was referred to as "the fifth Beatle." Scott said Martin had a "my way or forget it" kind of attitude. Looking back, Scott said working with him was incredible because he learned a lot.
"It's only since I've been walking in his shoes and producing that I realized how much I've learned from him," Scott said.
David Bowie said in an interview that Scott was his George Martin. Scott originally took offense to the statement because he did not always think fondly of working with Martin.
Scott spoke to the AES students about the overuse of technology in the control room. Scott said that people in the industry tend to over-edit music.
"(Creating music) has to come from the heart, not from the head," Scott said.
Scott reflected on how music has changed and he expressed disappointment about what the music industry is today. He said producers will take a mediocre performance, edit it and still be left with a mediocre record.
Scott said what is happening now is what happened right before the Beatles became popular. Record companies would find pretty faces and make them famous. Scott said the Beatles changed that. He said he firmly believes that talent will always win out.
"(Music) is not good at the moment, but it will turn around," Scott said.
Scott said we need to get rid of major record labels. He said labels are not trying to make music — they are trying to make money, and that is the opposite of what it was like with the Beatles.
This year, the Summit had a three-day recording session with Zigo, a local St. Louis band. They impressed Scott to the point where he wanted to bring them to Nashville to record. Witthaus excitedly said he wanted to help out if the recording session plans went through. He said he learned a lot from Scott about the career field.
Scott said he would not change a thing he has done. He said everyone makes mistakes, and that is what you grow from.
"I am so blessed. My life, it's incredible," Scott said.
Share this post