Most people love to sit in the same room with a famous musician. For John McClellan, adjunct professor at Webster University, this wasn't any ordinary meeting. It was a rehearsal for a sold-out show at the Savvis Center. And the famous musician was none other than Italian opertic tenor Luciano Pavarotti.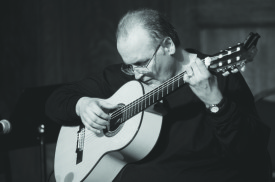 McClellan described Pavarotti as a "true rock star." Pavarotti attended all three rehearsals for the show with an entourage, and he rarely talked to anyone there.  The two were positioned right across from each other and would make eye contact and nod after each song. But McClellan remembers one of those rehearsals specifically.
"(Pavarotti) was eating this apple and singing, just pelting me with apple juice," McClellan said. "And I'm thinking, 'oh my guitar, French-Polish. It's expensive. (And) I'm getting spat on with apple.'"
McClellan was a part of Pavarotti's 1999 world tour as a guitarist, playing the St. Louis show in February. A St. Louis booking agent called McClellan, asking if he would be willing to assist with two pieces that required a classical guitarist. The pieces would be played solely with Pavarotti.
These days, McClellan has earned a top spot on the call lists of booking agents. He received his master of music from St. Louis Conservatory of Music and serves on the board of the St. Louis Symphony. He also directs the classical guitar program at Webster University.
McClellan says his main goal is to see his students become better than him. Though he has been teaching music for 25 years, he considers himself more of a coach than a teacher. He said he likes to work in the trenches with the students and not overwhelm them with learning. He considers one of his students, sophomore Devin Matthews, his star pupil.
"A lot of times, he'll say 'What do you want to learn?' And I really appreciate that," Matthews said. "He always puts in a good word for us and goes out of his way to give us opportunities to gain more experience."
That opportunity came to Matthews in the form of a trip to Nice, France. She took lessons for a week in July 2013 with McClellan's friend, Olivier Chassain, a teacher at the Conservatory of Paris.
McClellan considers himself a liaison for his students, offering his connections in the music world. He feels he has established enough for himself that he wants to give all his resources to his students.
"I'm at a point in my life where I've virtually done everything I've dreamed of doing," McClellan said. "I still have a lot of things I'm working on in the future. But I tour enough, I play enough. I have enough of an international reputation that I don't need that ego part of my music to be stoked anymore. It burns fine."
McClellan has also made connections from being a touring musician in his dual-guitar project with his friend Kirk Hanser. He said they have been playing together for almost 17 years and have toured the U.S. The two haven't toured recently because they both have families now, McClellan said. They are planning a French tour in February 2014.
"It's always just kind of clicked," Hanser said. "Our playing styles complimented each other, even though we've both had different training. It was just nice to be able to get together with another player of your level and really do some playing. We've never played [in Europe] as a duo. This is the first time we've gone together."
While in France, McClellan and Hanser will teach classes at the Paris Conservatory, which McClellan considers "the most prestigious music school on Earth." He is also looking to pass through the United Kingdom near the end of the tour.
Share this post