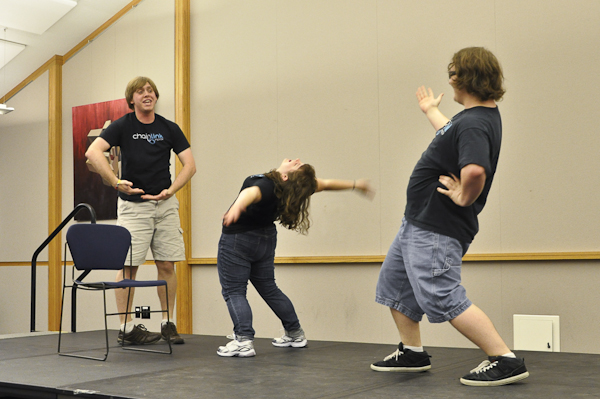 As the audience quieted, Webster University Student Government Association (SGA) Sergeant-at-Arms Chris Hawk was given his improvisation challenge: to speak to a group of kindergarteners as though they were preparing for war. He hollered about "Rugrats" and the enemy — the art class down the hall — as he paced the stage in Sunnen Lounge. It was one of many skits Hawk participated in during the Chainlink Improv Troupe's final performance of the semester on Monday, April 29.
Chainlink Improv formed about 10 years ago and started as a sister club to Surfacing, "Webster's primary performance, playwriting and directing student organization," according to the university website. Chainlink's end-of-semester show featured prizes for audience members and eight different types of skits.
Improv is a type of theatre performance that involves invented or offhanded actions and speech.
"The appeal of doing improv is really (that) you have a lot of fun doing it," said Kevin Lanigan, a Chainlink Improv officer. "Anything can happen. We're not limited by anything except what we can do with our bodies and with our mouths. So it's really fun to watch."
Paige Andrews-Johnson, president of Chainlink Improv and junior at Webster, organized the event. She became president of the club this year and has been doing improv since her freshman year at Webster. She hopes to get others involved in the group. Chainlink Improv meets Monday nights at 9:30 p.m. in Sverdrup room 123.
"Just being able to go somewhere on a Monday night and release your steam and get to know people who are fun and funny," Andrews-Johnson said. "I think that also it helps people think and speak quicker and get used to public situations."
Multiple SGA members are involved with the improv group, including President Michael Grosch and Comptroller-elect Jacob Kelleher.
"It definitely helps with bragging rights," Andrews-Johnson said. "I can go to people and say, 'Chainlink Improv, the president of SGA goes here.' It shows that you have a lot of leaders that like to do improv."
With the fall 2013 semester approaching, Chainlink Improv aims to expand and incorporate ideas such as sketch comedy. It also wants to partner with other colleges. Chainlink Improv hosts a show at the end of every semester and hopes to add a second show in the future.
Share this post