Seven Webster University students started the spring semester with a new major — women and gender studies. The degree program was approved at the end of the fall 2012 semester.
Even though the program was just recently approved, Anna Pestine, one of the seven students who claim the major, will be the first to graduate with the women and gender studies degree this May. She changed her major from biology to the self-design interdisciplinary major her sophomore year.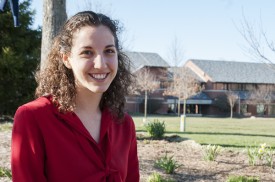 Pestine switched to the self-design major because Danielle MacCartney, chair of the women's studies advisory committee, told her there would be a women and gender studies major offered at Webster before Pestine graduated.
Pestine's interest in women's studies first sparked when she saw the play "The Vagina Monologues" her sophomore year. Pestine will graduate in May with hopes of using her degree in women and gender studies to work at reproductive centers or battered women shelters.
"My world was opened to how women are treated in the world," said Pestine. "People don't stop and examine why we do the things we do."
MacCartney said she and the women's studies advisory committee have been working on creating the women and gender studies degree since MacCartney came to Webster six years ago.
The women and gender studies major requires 36 credit hours on top of the general education courses needed to complete the program. Before last semester, Webster only offered a minor and certificate in women's studies, with 18 hours required for each. Fontbonne University, Lindenwood University and Maryville University provide a minor in gender and/or women studies. Both Washington University and the University of Missouri-St. Louis have a women and gender studies major.
According to the women and gender studies mission statement, "The women and gender studies program is based on the principles of social justice established by the founding organization of Webster University, the Sisters of Loretto."
Freshman women and gender studies major Rosie Jones started her first semester at Webster as an undeclared major.
"I don't think just having a minor available does justice," Jones said. "Women are 50 percent of the population. Why shouldn't we have a school of thought revolving around them?"
MacCartney said she spent time deliberating the title of the major and wanted to refrain from calling the major "gender studies." She said she felt it was important to keep the word "women" in the title.
"One of the reasons we named it women and gender studies is because women are so often easily erased from the curriculum already," MacCartney said.
MacCartney said the women's studies advisory committee has observed an increase in student demand for women's studies coursework at Webster since the program's inception.  From 2006-2010, women's studies courses have had an average enrollment of 132 students per semester, summer semester excluded. The fall of 2009 registered the highest number: 166 students.
"The major accurately reflects Webster's mission and serving under-met populations," MacCartney said. "And it continues Webster's legacy, being founded on the Sisters of Loretto."
Share this post