Despite poor weather conditions, the Webster University men's and women's track and field teams competed in the Washington University (WashU) Invitational on March 29-30. Along with Webster records falling, sophomore Jenny Howard ran one of the fastest times in the nation in the 100-meter dash.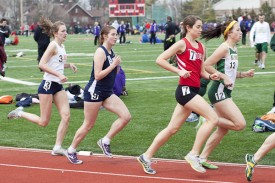 Howard finished third out of 58 runners in the 100 with a time of 12.51 seconds, which is the second-fastest time in Gorlok history. She missed first place by less than three-tenths of a second. Howard's time gave her the 13th-best time in the country in the 100 for 2013. Howard also ran the 200-meter dash in 27.02 seconds, which placed her 10th out of 41 competitors.
"I think we did pretty well considering the weather hasn't been fortunate for us, especially (during) the first two meets," Howard said. "It wasn't really good the first meet and it wasn't great this meet, either. By the second day, it was pretty rainy and cold."
Though Howard didn't break any school records this time, she has already broken multiple Gorlok records this season. She hopes to continue breaking records, especially when the weather improves.
"In the 100, I was happy because I ran a pretty decent time, and there was a little bit of a headwind and it was cold," Howard said. "I was excited I was able to have a good performance with the weather being bad."
Howard said Webster coach Kelly Parsley has stressed training and breaking school records this year. Howard thinks the Gorloks are on track to continue to do that. At practice, Howard said she works on dropping her times each week.
"Personally, I'm working on my technique and being more explosive and powerful coming out of the block," Howard said.
Also on the women's side, junior Julie Greenough placed 44th among 61 competitors in the 5,000-meter run with a time of 19 minutes, 44.23 seconds. Junior Eroica Stackhouse finished right behind Greenough with a mark of 19:46.56. Freshman Lauren Hoover also ran the 5,000, placing 58th with a time of 21:08.49.
For the men, sophomore Zachary Zurfluh-Cunningham broke the Webster record in the 100 with a time of 11.39 seconds, good for 28th place out of 91 runners. Zurfluh-Cunningham also finished 11th out of 58 runners in the 200, recording the second-fastest time in school history. Senior Aaron Oberneufemann ran the 400-meter dash in 51.60 seconds. He finished 23rd out of 56 runners.
Sophomore Jason Hickson destroyed the Webster record in the 10,000-meter run, finishing in 34:25.50. Hickson's time placed him 34th out of 46 runners. Senior Ethan Jeffries set a school record in the 5,000 with a time of 15:58.66, beating out senior Daniel Henkey's previous record. Jeffries finished 64th among the 119 runners.
Parsley said his team fared well in the poor conditions.
"Usually, sprinters don't run well in the cold and rain, and timewise, it didn't seem to impact us," Parsley said. "Jenny Howard ran the 13th-fastest time in the country in (NCAA) Division III, and Zurfluh-Cunningham broke his own school record by two-tenths of a second, which is a lot of time in a 100-meter."
The lone field event for Webster was completed by senior Blake Harris. Harris placed 38th in the javelin throw out of 41 throwers. He finished with a distance of 28.69 meters.
The Gorloks' next meet is Saturday, April 6. Webster will compete in the WashU Select Meet, which will be held on the campus of St. Louis University. The meet was moved to SLU's campus because Bill and Hillary Clinton will be visiting WashU's campus that day.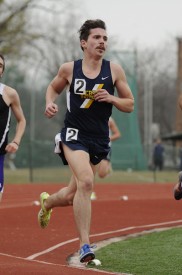 Parsley said he isn't sure who will compete because of other events going on this weekend.
"It's a very interesting weekend for us," Parsley said. "We have some students who are Orientation Leaders, and some are volleyball players. There is non-traditional volleyball this weekend, so we may have a very small contingent competing in the event this weekend."
Share this post