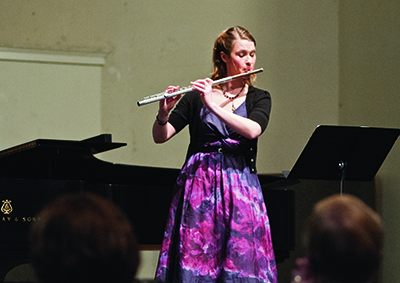 Webster University's department of music presented a concert featuring Jennifer Toro Mazzoni on flute accompanied by A. Matthew Mazzoni on piano. On Sunday, Jan. 27, the husband-and-wife duo held a performance in the Winifred-Moore Auditorium as part of the music department's concert series.
Jennifer Toro Mazzoni's passion for the flute started when she was 11 years old. She said it's typical for wind players to start out in fifth or sixth grade.  A native of St. Louis and 2003 Webster alumna, Jennifer Toro Mazzoni was home-schooled. She said being home-schooled gave her the advantage of extra time for participation in youth orchestra and sessions with her private teacher, Paula Kasica, who is also a Webster adjunct professor.
"The nice thing about my flexible schedule was that I got to practice a lot," Jennifer Toro Mazzoni said. "I also had time for city-wide orchestras and things like that."
Jennifer Toro Mazzoni earned her undergraduate degree in music at Webster and studied with Jan Gippo of the St. Louis Symphony. For graduate school, Jennifer Toro Mazzoni earned her master's degree in music at Indiana University. She later served as an adjunct professor at Murray State University (Ky.) and is a Community Music School faculty member.
In 2006, Jennifer Toro Mazzoni was honored in the Kentucky Flute Society Young Artist Competition. A year later, she was selected for the National Flute Association's Young Artists Competition. In her career, Jennifer Toro Mazzoni has performed with the Paducah Symphony, the Indiana University Festival Orchestra, the Columbus Philharmonic (Ind.), the Webster Symphony and the St. Louis Symphony Orchestra.
The Mazzonis have been married for almost eight years, and they have played music together for just as long.
"We have a lot of trust between each other and the same musical ideas," Jennifer Toro Mazzoni said. "It's amazing to perform with him because we're always on the same page. Together we can play as one person."
A. Matthew Mazzoni and Jennifer Toro Mazzoni have two children, ages 5 and 2. Jennifer Toro Mazzoni said their children are both very interested in music because they have been surrounded by it since birth.
"Whatever they do in life, I'm sure they'll have some sense of classical music or at least music in general," Jennifer Toro Mazzoni said.
Share this post