Webster University alumna Crystal (Shelton) Spinner will be the first player under the tutelage of volleyball coach Merry Graf to enter the Webster Athletics Hall of Fame. On Saturday, Feb. 2 during halftime of the men's basketball game, Spinner's name will be one of three to be added to the banner in Grant Gymnasium for the hall of fame class of 2013.
Spinner graduated from Webster in December 2007 with a bachelor's degree in business administration. During her four-year career as a Gorlok, Spinner set the program records for digs, kills and sets played and earned several other St. Louis Intercollegiate Athletic Conference awards.
But both Graf and Spinner said the hall of fame inductee's path to Webster wasn't a typical recruiting scenario.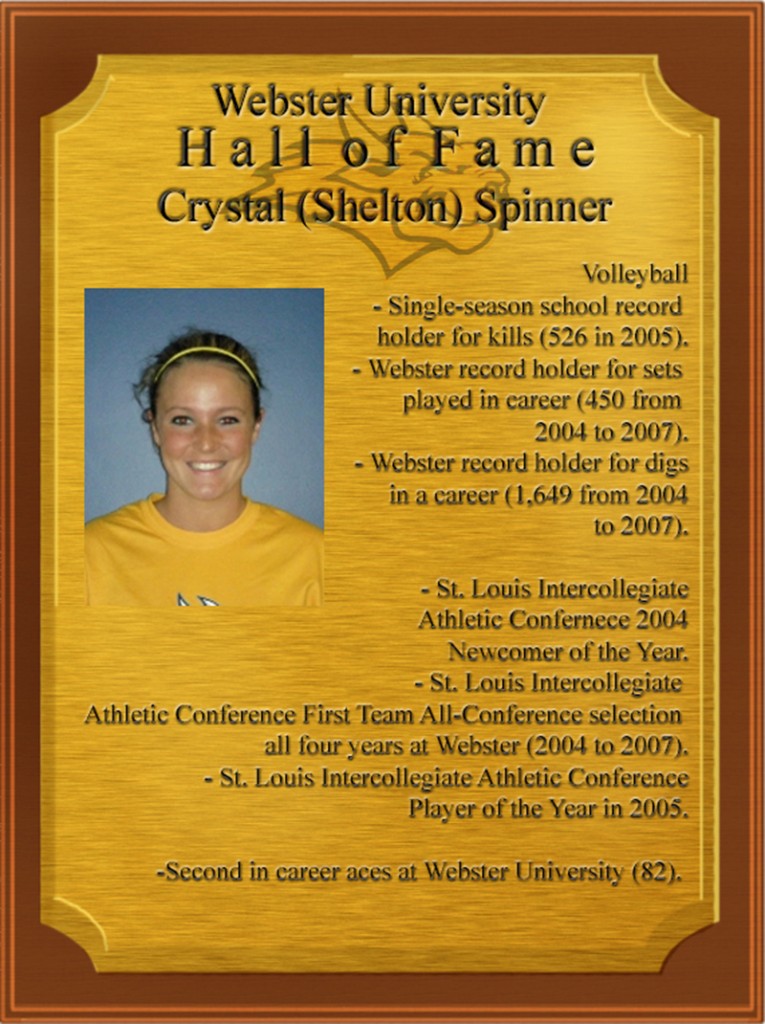 "The biggest thing was my now-husband," Spinner said. "We were dating in high school, and he played basketball (at Webster). He was a year ahead of me, and he went there. So then I decided to go there, too."
As Spinner prepared to graduate from Pattonville High School in Maryland Heights, Mo., where she played varsity volleyball all four years, she said she was heavily recruited by the University of Tennessee-Martin and William Woods University (Mo.). Graf said her "in" with Scott Spinner, Crystal Spinner's future husband, may have helped to bring her to the Gorloks.
"I was talking to (Scott Spinner) one day, and he told me his girlfriend was a really good volleyball player," Graf said. "We started talking, and he said, 'She's looking to get an athletic scholarship. I don't think she would come to Webster.' I said, 'Well, it's not going to hurt anything if I send her something in the mail.' And he said, 'No, probably not.'
"So, I got her address and sent her some stuff in the mail. I watched some videos on her. Of course, she would come watch him play basketball, so I talked to her a few times when she was on campus. I said, 'You know, why don't we set up a campus visit? We'd love to show you around and have you meet some of the other players on the team.' She was being pretty heavily recruited by the University of Tennessee-Martin at the time …
"She really liked the idea of staying close to home and being near where Scott was, so that's kind of how that worked."
Crystal Spinner said the small-town atmosphere of Webster and her close friends stuck out to her while finalizing her decision to attend.
"We were all super close. It made you feel like a part of a big family," Crystal Spinner said.
The decision paid off for the Webster volleyball program. In 2006, the Gorloks earned a spot in their first-ever NCAA Division III tournament with the help of Crystal Spinner. She said the conference tournament that season and the trip to the tournament were her biggest moments as a Webster volleyball player.
"That was our first appearance …" Crystal Spinner said. "Back when we won conference, to get to that was probably a big moment because I knew that was the first time in our program history that we had an NCAA appearance."
After graduation, Crystal Spinner became the head volleyball coach for Fontbonne University, a SLIAC school. Crystal Spinner composed a 17-35 overall record as the Griffins' head coach but compiled a .500 record in conference play in her two seasons.
In March 2010, the Spinners welcomed their first daughter, Madison. And seven months ago in May 2012, Crystal Spinner had the family's second daughter, Allison. Crystal Spinner currently stays at home to help care for her two daughters.
But Crystal Spinner said when she received the call from Webster Director of Athletics Tom Hart, she was anxious — among other feelings — to attend the ceremony.
"My first reaction was shocked, and then I was super excited," Crystal Spinner said.
Graf said she and Crystal Spinner exchanged text messages when Graf found out her former player was officially announced as a Hall of Fame nominee.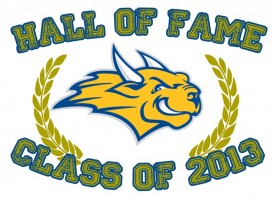 "She had already talked to Tom Hart, but we went back and forth a couple of times, and I just told her I was really excited and proud of her accomplishments," Graf said. "She's going to be the first player that I coached at Webster (to be inducted into the Hall of Fame). … I was really excited for her and proud of what she had done for the program."
Graf said Crystal Spinner's talents in all areas of the game made her a unique and special player.
"She was a dynamic player," Graf said. "She's somebody that you could walk into the gym and scan the gym, and your eye was going to draw to Crystal because she was that talented of a player. Not only that, but she was very mature on and off the court, very level-headed. She really was the full package for us, which was awesome."
Crystal Spinner said her nomination is a testament to hard work as an athlete and to her life as a volleyball player.
"To me, it really shows me how hard I've worked, not only at my career at Webster, but from when I was an 8-year-old playing volleyball — pretty much my whole life — building up to that moment to allow me to break the records and succeed as an athlete to allow me to have an opportunity like I did," Crystal Spinner said.
Share this post