Junior Julie Greenough hadn't competed in a cross-country meet since the second week of September due to an ankle injury. But on Saturday, Oct. 6, she completed a 5K race in 20 minutes and 51 seconds at the Jackling Jocks Invitaional in Rolla, Mo.
Webster University's men's and women's cross-country teams competed as the only Division-III School in a field of eight other D-II schools. Webster records were broken on both the men's and the women's sides in the meet.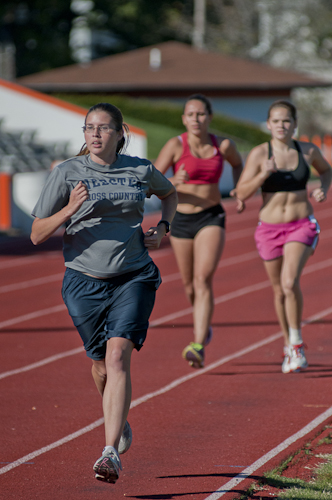 Prior to the race, Greenough was nervous about her performance and didn't want to disappoint her coaches or teammates.
"Going into the race on the 5K, I was anxious because I didn't know how I was going to perform," Greenough said. "I didn't know if I was going to let anyone down. I didn't want to be the slowest runner and I didn't want to disappoint my coaches and team."
Greenough finished 51st overall out of 74. Junior Heather Heisse broke a 12-year-old school record in the 5K by 33 seconds as she finished 28th overall with a time of 19:10. Other notable times from the women's team were junior Eroica Stackhouse, who finished second for the Gorlok women and 46th overall; and senior Jane McKibben finished 54th overall with a mark of 21:32.
During the race, Greenough felt more confident and comfortable as the race went on.
"During the race I felt really good. I felt really strong, I felt confident, I felt comfortable," Greenough said. "I finished a lot faster than I thought I would. I broke 21 minutes. I was really proud of myself; my coaches and teammates are proud of me. I was just really, really happy with my performance."
Even though Greenough isn't in the best shape, her goal for the next few weeks is to be at the same level as her teammates.
"My ankle is OK, but during these next couple of weeks before conference, I will have to work extra hard to get to the same level as my teammates, because they are doing really well and I don't want to let them down," Greenough said.
On the men's side, senior Daniel Henkey set a new school record in the 8K with a time of 27:05. Henkey finished 43rd overall among 79 runners. Right behind Henkey were sophomore Jason Hickson (44th overall) and senior Ethan Jeffries (46th overall).
Henkey and the rest of his teammates never ran the course before, and he said it was hard to judge how fast he could run the course. Henkey was surprised he broke the school's 8K record.
"I was little surprised," Henkey said. "We haven't ran that course yet, it was hard to judge how fast the course can run, Ethan and Jason were right there with me the whole time; any one of us could have broken the record. We all broke it together."
For Webster being the only D-III School in the field, Henkey said the competition was great and it gave the Gorloks a chance to push each other harder in the race.
"It puts a different perspective on where we're at, with other schools having scholarships to give to their athletes, especially better runners. It helps out," Henkey said. "The competition was really good. Overall, everyone had someone to run with, so everyone was pushed a little bit more."
Webster's cross-country teams will compete in the Illinois College Cross-Country Invitational on Oct. 13 in Jacksonville, Ill.
Share this post