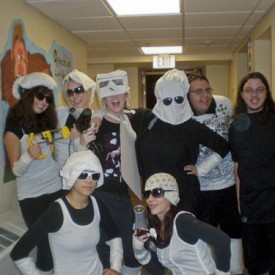 By Gabe Burns and Caillin Murray
Disguised with a white bag pulled over her face, Cat Goeke attempted to defend the Death Star from the rebel intruders. Goeke, playing the role of a stormtrooper from the movie Star Wars, fired her Nerf gun down the hallway at Luke Skywalker, Han Solo and Princess Leia, played by Trevor Harris, Andrew Schafer and Taylor Ringenberg.
The members of the first Communications Learning Community (LC) in 2009 participated in a fan recreation of the first Star Wars movie, called Star Wars Uncut. Star Wars Uncut, the creation of a filmmaker, gave fans 15 seconds to recreate the famous science-fiction film and combined them all to make a completely fan-made remake of the first Star Wars.
"We're all wearing paper towels and Under Armour and helmets and stuff. Somebody rolls into the frame and has a gun and is shooting lasers," Goeke said. "We all just got — and made — these homemade costumes, and it was really fun."
These students weren't brought to the LC for their love of Star Wars, but instead through a mutual interest in communications. As freshmen, they all joined the first-ever communications LC in 2009. The purpose of the LC is to bring freshmen together with individuals within their school.
A student involved in an LC is placed on the same floor as the rest of his or her LC. Commuter students have been a part of LCs as well, and have access to their LC's floor. The LC has one required course that its members take together, as well as side projects and field trips they all participate in together.
Webster has seven different LCs, which are intended for everyone from the undecided to education majors to students with an interest in human rights and social activism.
"What I found was that a lot of the barriers — the barriers that happen in a classroom the first two or three weeks — didn't happen with them. They already knew each other," said Bill Sharpe, who teaches Introduction to Mass Communications for the Communications LC. "They already had probably looked foolish in front of each other."
This year, members of the first Fine Art and Communications LCs have entered their senior years, and some will be graduating as soon as this December.
"It's always nice to know I have these relationships with these people," Goeke said. "That whenever I came to Webster and I was a baby and I was 18 years old and I didn't know what I was doing, I made these bonds. I made these friendships with people who were so similar to me and some who weren't so similar to me. For the most part, we really came together and made a family."
Sharpe said the LC provides an opportunity for students within the same
school to collaborate — both in the classroom and outside it — in ways other students might not.
"I used to tell people that I could put a lightbulb on a table during that class (Intro to Mass Comm), and it would glow for the whole hour," Sharpe said.
Kit Jenkins, who also teaches Intro to Mass Comm for the Communications LC, said it's the students' focus coming into Webster that makes it exciting for her to teach the class.
"A lot of freshmen come to college completely clueless and wander around in circles for a really long time before they figure out what they want. The students in the LC appear to be a little more organized about their education," Jenkins said. "And that's fun for us teachers to have students who are engaged in that way."
Students of LCs have participated in group projects outside their curriculum — Star Wars Uncut is one example. Sarah Tetley, director of first-year experiences, once organized a bus for the students of the Fine Arts LC to visit art galleries and the City Museum.
"It was a lot of fun and we did a lot of things outside the school together, which got me out of my dorm room and out of my classes and around the city," said Molly Brennan, a sophomore art major who was a part of the 2011 Fine Arts LC.
Brennan said she was happy with her participation in the LC, but said she felt alienated from the rest of the university. Outside of her required LC class, Brennan found she did not know many other people in the art department. Returning this year for her sophomore year, Brennan said she discovered many of her Fine Arts LC friends had left Webster.
"Definitely, once they left, it kind of forced me to be like, 'OK, I only have like, two people here right now. I have to branch out,'" Brennan said.
In the Communications LC, Goeke said students ran into similar problems and continued to stay together, going out of their way to take classes with one another.
"After we stopped getting assigned to classes together, part of us were like, 'I don't want to take classes with other people I don't know. I'll look like an idiot.' So we kind of started signing up for classes on our own together," Goeke said.
Sharpe said he has noticed that LC students tend to stay within their group. He said he also noticed that every so often, one student would not seem to fit in with his or her LC.
"If you're not thrilled with your group, you can go out and find new people anyway," Sharpe said. "I'm sure that there are people who go to class, live in the same floor, but when it comes to socializing, after their first semester, they find other people to do it."
Sharpe said he believed participation in an LC could give students an advantage once it came time to enter the job market. Sharpe said the ability to work in a group, which he thinks LC students exemplify, is a trait many employers value.
Sharpe, a '76 Webster alumnus, said he would have participated in an LC had it been available when he was a student. He called himself an "advocate" for LCs, and said he could see them being expanded to also include students' sophomore year. But for freshmen, Sharpe said he thinks LCs are definitely worthwhile.
"Because the hardest thing when you go to a new place is to figure out how to fit in," Sharpe said. "If you have the opportunity with one person that's gonna help you fit in, that's good. If you get to meet five or six or seven or eight or 12 or 30, then you are part of a community, and you have a lot of different people you can interact with and get ideas off. It makes venturing off into the rest of the campus easier."
Share this post