Despite a solid Round 2 at the Dubuque Fall Invitational in Dubuque, Iowa, the Webster University golf team finished 12th among 18 schools during the two-day tournament on Sept. 22 and 23.
On the first day Webster shot a 337, but recovered the following day with a 319. Even with cutting almost 20 strokes, coach Andrew Belsky is not pleased with his team's performance so far in the 2012-2013 season.
After beginning the season with a sixth-place finish in the Culver's Edgewood Classic, the Gorloks have not placed higher than 10th in three other competitions this fall.
"In my nine years as being head coach, this is by far the most underachieving team I've ever had," Belsky said. "We're just in a funk right now. We're not playing well. It's not where any of us want to be. It's not for a lack of effort, but we're just not playing good at the moment."
The Gorloks were hindered as their top-scoring player of the season, senior Kyler Scott, was pulled from the tournament on the fourth hole of the day with a rib injury (click here for more on Scott's injury). Because of Scott dropping, Webster could only score four players.
"It was huge. His not being there cost us (almost) 20 strokes over the two days," Belsky said. "It's a massive disadvantage. Plus it puts more pressure on the other guys. … I'm sure it would have moved us up six or eight spots in the final rankings."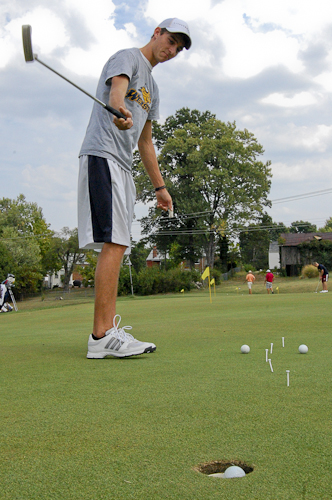 The top finisher for Webster in Dubuque was freshman Brodie Dakin, who shot a 155, placing him 14th overall in a field of 93 golfers. Following Dakin was senior Steven Kinsman with a 161 and ending in 40th place. Junior Andrew Dowd, at his first collegiate tournament, shot a 168 for 64th.
Senior Dan Klipsch played in his first tournament of the year for Webster after missing the first three because of a ruptured tendon and broken index finger. Klipsch finished 72nd overall with a 171.
Klipsch said it felt good to get back on a course despite not finishing well.
"I didn't play nearly as well as I hoped to," Klipsch said. "I definitely struggled. Some of it was rust. Some of it was just poor play — no excuses. All in all, it was a little disappointing week for me, personally."
The reason behind the Gorloks' lack of success in the fall isn't easy to pinpoint. However, Webster has been able to recover in Day 2 at each of its tournaments after rough starts. Klipsch said he attributes this to the team's perseverance.
"I think it shows our ability to bounce back and to not dwell on the first round," Klipsch said. "We just always keep fighting, and I think it's great. It's a fun group of guys to be around. We kind of feed off each other in that aspect. We're all so positive, and we believe we're going to improve no matter what."
Webster's next competition will be its last of the fall season. The Gorloks will head to Jacksonville, Ill., on Sunday, Sept. 30 to partake in the MacMurray College Invitational. Belsky said the team needs to keep in mind that it is a one-day event.
"It's only one day, so we can't have a bad first day, which has been a problem area for us," Belsky said. "And, secondly, we have to get a fourth score in. We can't afford to continue counting scores that are 86. We need four scores in the 70s. We just have to get more consistent from top to bottom."
Share this post