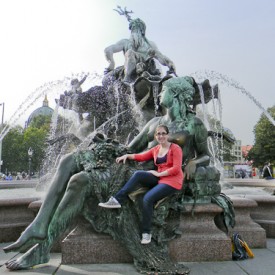 By Liz Edwards
It's time to talk about two words no study abroad student wants to talk about. Not "culture" and "shock" because that is what study abroad is all about really, being introduced to new cultures. Every experience I have had so far would not have been notable  if it weren't for the contrasts between my culture and language and those of the Netherlands. No, the two little words I am referring to are "home" and "sick." Together, they are a real problem for the study abroad student.
Being homesick was my biggest fear before I even came to Leiden. No one wants to leave loved ones behind or miss holidays and family traditions. However, once I was here I fell so hard for Leiden that I knew it was not going to be a debilitating issue. But that doesn't mean homesickness didn't sneak up out of Leiden's cobblestones and get me.
Homesickness can be devastating enough to cause the booking for a flight home or be rather mild, like in my case, which I am thankful for. The important thing is to do what no one seems to want to do — talk about it.
When I mentioned it in a conversation with a Resident Assistant here, guess what? I wasn't the only one. The RA felt homesick, too.
Knowing I wasn't the only one helped me immensely, especially hearing that someone as experienced as the RA was homesick.
I got through it. Will it creep up more? Definitely, but I will get through it again and again if I have to, and the next time I will be prepared. My plan is simple: Call a loved one so I can remember I am still connected to them and then plan a trip, a really spectacular trip. My trip of choice this time was a spontaneous journey to a city with some big history. I buckled up with three other girls and spent three eye-opening days in Berlin.
Anyone that knows me knows that a spontaneous trip is out of the norm, but I am thankful that it happened. Was it perfectly planned? No. Did I have a great time? Yes. Did I forget about being homesick? Pretty damn close.
Berlin is a modern city with a historical twist. On the first day that we got there, we took a bike tour around the city. It was six miles that my butt sorely regretted the next day, but my mind didn't. I saw so much of the city with a wise leader, our tour guide. For instance, I learned that a good portion of the historical buildings in Berlin were actually rebuilt due to bombings during WWII, that citizens of Berlin salted old sculptures and immersed them in the canals to keep them safe from bombs and that Hitler's bunker, which is indestructible, is under a nondescript car park.
I also learned not to take curbs too fast and to squeeze the hand brakes carefully — but that is beside the point.
The next day we toured the Nazi concentration camp that controlled all other concentration camps. This wasn't my intention, but I quickly forgot my homesickness as I walked in the footsteps of those that were trapped there. Though we were absolutely freezing, starving and fairly miserable, I knew it compared nothing to the lives of the prisoners once there. I couldn't complain. I could barely think. As I saw where they were shot, where they were gassed, I could barely breathe. I had goosebumps and it was not because of the chilly wind.
However, there was also beauty to be found in a city that is known for destruction. We went back to the park we biked through two days before to spend our last day, and stumbled upon art scenes that I thought should have been in a movie. Rocks representing peace were littered in one area of the park. Apparently, the sun on a certain day in July would connect them all. Many tourists photographed a giant sculpture gilded in gold. Parks in Berlin definitely have hidden treasures.
The trip really helped with my homesickness. It was spontaneous, and this uncharacteristic action helped me cope. It became more of an adventure and prevented me from dwelling on what I was missing at home. I had to make decisions quickly to get things accomplished and talk to people in the hostel.
Being with people on a trip makes traveling a whole different experience from traveling alone. Compromises had to be made, but the collection of our ideas added so much to this trip. I would have never known there was a Christmas store in Berlin if it wasn't for one of the other girls. Now, Käthe Wohlfahrt (the Christmas store): that is how you forget homesickness. Talk about a kid in a candy store.
Share this post