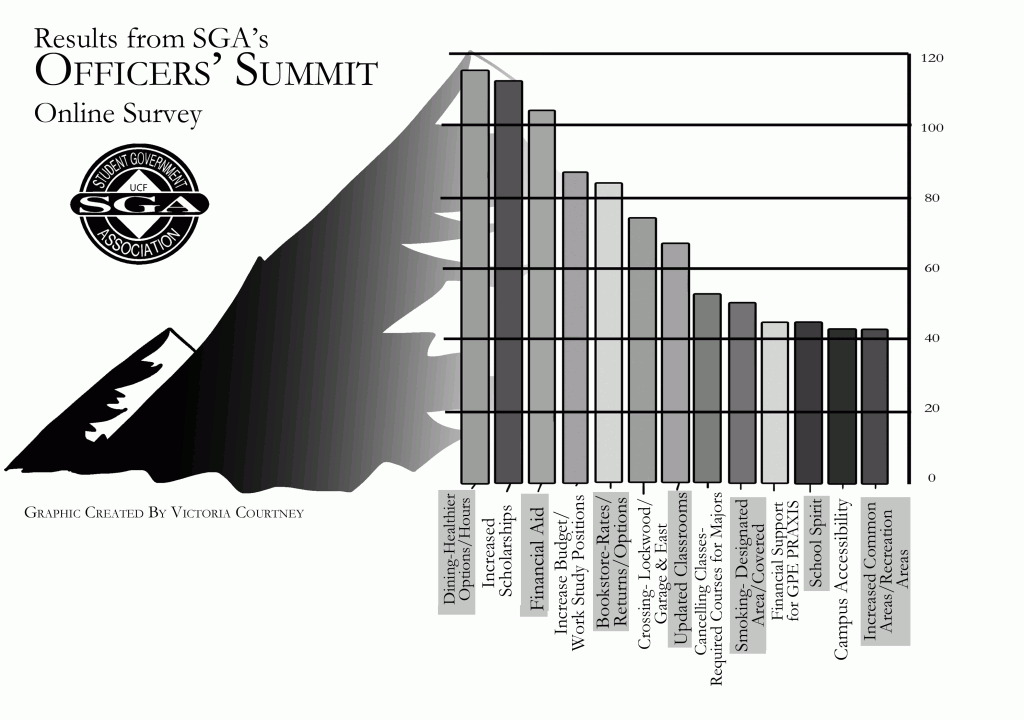 During the Sept. 14 Officers' Summit, Kayla Thompson proposed that Webster University require faculty and staff to complete diversity training prior to the start of their employment.
Thompson, president of Webster's Association for African American Collegians, said the training is needed after she heard of an incident between an African-American student and a professor.
"One of my peers asked a teacher what a multiple-choice test was because she had never taken one before," said Thompson, a senior anthropology major. "The teacher then went on to explain how it worked, saying that she would pick a number just like she would pick a piece of chicken out of a KFC box."
Ralph Olliges, president of Webster's Faculty Senate, said he was not aware of a requirement for faculty to complete diversity training prior to employment.
"Every employee of the university has to agree to an ethics policy that addresses race and tolerance before they are hired," Olliges said. "Unfortunately, racism can't always be prevented."
Thompson said she also learned of another incident at an African American Alumni Chapter event held Sept. 13. She said these incidents do not affect only African-American students.
"Another student told me they were followed around the (Webster) bookstore like they were up to something, even though they were just trying to find their textbooks," Thompson said.
For Thompson, these situations conflict with her understanding of the university's core values.
"You cannot create global citizens if they aren't educated in an environment that includes cultural awareness," Thompson said.
Thompson also said the training would help faculty and staff understand how to better interact with students of different ethnicities and cultures.
If students believe they are the victim of racism in class, Olliges said they should contact the department chair or dean the offending professor answers to. If the incident takes place outside of the classroom, Olliges recommends students to contact Ted Hoef, dean of student affairs.
Student leaders amended Thompson's proposal to include SafeZone training. SafeZone is a program designed to help participants create a welcoming environment for people of different genders and sexual orientations. The amended topic received the second-most votes of the 20 issues proposed at Officers' Summit and will be presented to administration officials at Delegates' Agenda.
Other issues to be presented at Delegates' Agenda are:
— An increase in class offerings with specific attention paid to the 10-student limit and degree-specific classes offered only once each academic year.
— Possible financial assistance for students who earn passing test scores on the Graduate Record Examination (GRE) and Praxis tests. The GRE must be taken for students to attend graduate school. The Praxis test is required for students to become teachers.
— The creation of more budget jobs on campus following cuts to financial aid packages and reductions of work-study funding.
— The establishment of an alumni-mentor program to connect undergraduate students to professionals in their area of study. The goal of the program would be to provide students with alumni support and networking as they prepare to graduate.
The Officers' Summit acts as a forum for attendees to voice concerns about issues affecting the student body. Five issues are selected each fall and spring by the delegation and then presented to the administration. More than 70 of Webster's student leaders gathered in Sunnen Lounge for the Friday, Sept. 14 meeting.
John Ginsburg, director of the University Center and Student Activities, served as one of the moderators for the summit.
"I think they raised issues that reflect the opinions of the entire student body," Ginsburg said. "It's a diverse group of issues that have the potential to change several things on campus."
The five selected topics will be presented to administration officials at Delegates' Agenda on Tuesday, Oct. 2 at 3 p.m. in Sunnen Lounge.
Share this post